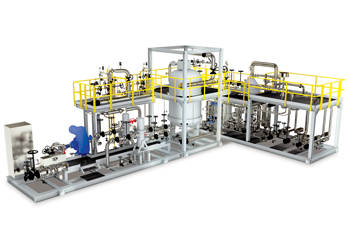 A crude oil block unit
GEA wants to bring this technology closer to clients, who have not come into contact with such a machine until today. The company holds customer seminars, road shows and, with the demonstration unit in this respect
Leading technology provider, GEA has developed a brand-new crude oil desalting centrifuge that has been enhanced with an engineering package which includes a proposal how to integrate the unit in existing plants.
With this portfolio expansion, GEA has closed a gap in its portfolio and now offers a full range of dehydrating and desalting centrifugal separators with a capacity of up to 45,000 bpd per machine, says Csaba Hunyor, Product Sales Manager of the company.
During the design phase and in defining the machine requirements, GEA focused on the fact that the era of 'easy oil' is ending, making the dehydrating and desalting task more demanding. In detail, the machine has been designed to handle high water cuts up to 99 per cent, can treat extra heavy crude oil down to API13 with a design temperature of 130 °C, but is also flexible and can process oils of varying density, he says.
The crude oil treatment system (including the separator) treats non-degassed crude oils up to a pressure of 56 psig, simultaneously removes water and solids and is therefore suitable for installation in the upstream and even EPF sites.
The smaller machines can also be installed in containers or in trailers, which allows optimal flexibility as a mobile treatment unit. To meet the ever-increasing demands of digitalized production, the new separator series is equipped with intelligent IECEx sensors that ensure real-time machine condition monitoring, which allows a 24/7 break-down free operation with an optimum uptime of up to 99.9 % depending on the service level agreement.
'We are looking very brightly into the future as we have a great, high-tech yet robust product that has already proven its outstanding performance worldwide. This technology is the right answer to the upcoming challenges in the upstream and downstream dehydrating and desalting processes. It extends or increases the production of existing installations significantly and opens the door to fields that could not be processed until today,' asserts Hunyor.
GEA wants to bring this technology closer to clients, who have not come into contact with such a machine until today. The company holds customer seminars, road shows and, with the demonstration unit, offer the opportunity to touch, test and see the convincing performance of the system on their own site with their own product.
GEA has a wide product portfolio which allow it to be flexible and adjust its scope according to the client requirements. 'We can supply single machines from our own – SA approved – production facilities and also engineer complete skid-based solutions which will be developed by our engineering team, located in Germany and Italy, and commissioned by our great service team located in Saudi Arabia and the UAE. In our field of application, it is essential to have a well-designed process, which ensures that the machines can operate in the optimum operating window.'
Since GEA does not supply the entire system most of the time, it is very important to ensure that the different engineering teams are coordinated and work close together. This can save important time and money, avoid unnecessary challenges during commissioning. In addition, the company's experience shows that a well-planned and well-executed SAT and the fine tuning of the machines ensure a long-term stable operation. An operator training is therefore also very important, he explains.
On the company's relationship with Aramco, he says GEA works mainly indirectly with Saudi Aramco through EPC contractors, who integrate its machines and solutions in the whole process and do the installation. It already has several installations at Saudi Aramco and in Saudi Arabia for associated industries like SEC, Sabic, etc.
The first installation was made in the 1980s when fuel washing shifted from electrostatic desalters to the more efficient high-speed centrifuge technology. In Saudi Arabia today approximately 1.5 mbpd of fuel is treated and desalted by centrifugal technology.
'We are in constant contact with Saudi Aramco for various projects, as our company has the technology leadership in several applications, e.g. refrigeration technology, gas compression and centrifugal separation which are well in line with Saudi Aramco's requirements,' Hunyor points out.
The company is involved in various projects, including both greenfield and brownfield developments.
Talking about business, he says the business environment is becoming more challenging overall, than before 'but we still have a solid order book due to our good presence in Saudi Arabia and our strong portfolio'.
www. gea.com/oilgas