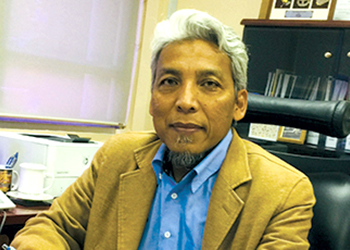 Mohd Hamim bin Imam Mustain
With an ever increasing number of management system standards being established and adopted worldwide, the implementation of an Integrated Management System (IMS) is an attractive alternative solution for an organisation that wishes to improve the effectiveness and efficiency of its management systems, says Mohd Hamim bin Imam Mustain, Senior General Manager, Management System Certification Department of SIRIM QAS International, a premier provider of management system certification services in the region.
It can be applied by any organisation that is looking into integrating two or more of management systems into one cohesive system with a holistic set of documentation, policies, procedures and processes, regardless of the type, sector or size of the organisation.
An IMS combines all related components of each management system that is being implemented by the organisation into one system, for easier management and operation. Quality, Environmental, and Occupational Health and Safety management systems are commonly combined and managed as an IMS, explains Mohd Hamim.
With an integrated system, the organisation becomes a unified whole, with each function aligned behind a single goal, which is to improve the performance of the entire organisation.
The benefits of IMS include reduction in documentation, reduction in resources needed to manage the system, reduction in overall cost for certification audit due to reduction in audit duration, less disruption to the organisation when audits are performed in an integrated manner, greater focus on organisation's objectives and more efficient system.
About which management system standards can be integrated, Mohd Hamim says an IMS can include, but is not limited to, the following combinations:
• ISO 9001 (Quality Management) + ISO 14001 (Environmental Management) + ISO 45001 (Occupational Health & Safety Management);
• IS0 14001 (Environmental Management) + ISO 45001 (Occupational Health & Safety Management); and
• HACCP + ISO 22000 (Food Safety Management) + GMP ISO/IEC 27001 (Information Security Management) + ISO 22301 (Business Continuity Management) + ISO/IEC 20000-1 (IT Service Management).
For the certification of any other combination of management system standards, SIRIM QAS International can be consulted, he says.
WHY SIRIM QAS INTERNATIONAL?
SIRIM QAS International has accreditations from the Department of Standards Malaysia (STANDARDS MALAYSIA) and the United Kingdom Accreditation Service (UKAS).
"These accreditations not only demonstrate the competence of our certification personnel and the impartially of our certification processes but also ensure the international recognition and acceptance of our certificates," says Mohd Hamim.
As a member of the International Certification Network IQNet, SIRIM QAS International is authorised to issue IQNet certificates. This further enhances the recognition and acceptance of its certificates around the world.
With its large pool of highly experienced auditors who are qualified to conduct audits in multiple management system disciplines and across a wide range of business sectors, SIRIM QAS International is committed to providing value-added auditing services to its clients which will help improve their business practices and, as a consequence enhance their global competitiveness, he points out.
The application process includes Submission of Questionnaire, Issuance of Quotation, Submission of Application, Stage 1 Audit, Stage 2 Audit, Recommendation and Approval, Issuance of Certificate and Surveillance Audit/Recertification.