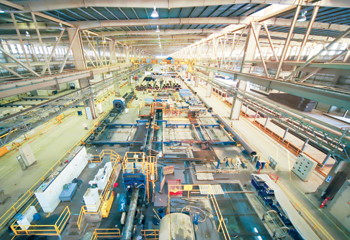 The LSAW plant in Jubail ... 300,000 metric tonnes of annual production capacity
Launched in 2005, the longitudinal submerged arc welding plant has supplied the oil and gas sector with more than 550,000 MT of line pipes meeting the stringent demands of sector clients

For the Arabian Pipes Company (APC), a leading pipes manufacturer in Saudi Arabia, the completion of multiple mega projects in oil and gas not only marked a key milestone, it was a display of prowess that the company can undertake challenging projects without compromising on quality.
APC had conceived the idea for a longitudinal submerged arc welding (LSAW) plant since the start of the company in 1991.
APC can undertake challenging projects without compromising on quality
Ever since, APC has been aiming to add a new carbon steel pipe type to their products, which led to the construction and implementation of the LSAW plant in Jubail with the capability of producing LSAW pipes ranging in diameter from 16 inches up to 48 inches and a capacity of 300,000 metric tonnes per year.
The LSAW plant was launched in 2005, with commercial production starting in 2008 and having completed multiple projects during that time. In 2010, APC LSAW received API approval.
Since then, APC LSAW has supplied the oil and gas sector with more than 550,000 MT of line pipes.
APC aims to become a pioneer in the Mena region in providing quality piping solutions to meet the stringent demands of clients in the oil and gas sector.
The company's state-of-the-art manufacturing lines, record supplies and a portfolio of major projects bear testimony to APC's prowess and its position of being one of the top industrial companies in Saudi Arabia.
APC has been true to its commitment to serving the oil and gas sector, a challenging task, considering its stringent specifications and standards and consistency of high quality and supplies.
This true commitment was the leading factor for the LSAW plant's expansion.
APC is constantly working to developing its lines to expand its capacity. 'We will keep following our targets, which include supplying fully-integrated products that cover all customer requirements. In addition, we will continue investing in our human resources to build qualified candidates as part of our plans in alignment with KSA's Vision 2030,' says a company spokesman.