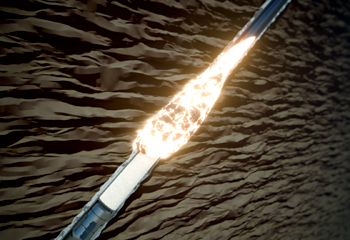 RockSolid ... a pioneering, industry changing exothermic-based formation-to-formation barrier
By leveraging its extensive in-house developed product solution capabilities, the leading technology provider enhances well integrity capabilities, boosting production and reducing emission

From the construction phase of a well through to the plugging and abandonment stage, Interwell has innovative solutions to the operators' unique well challenges in addition to bespoke and standardised solutions.
The company's technologies are designed for reservoir and flow assurance applications, shallow and deep-set well barriers, well integrity, ground-breaking plug and abandonment (P&A) solution and special niche completion glass (shatter) technology.
Interwell was established in 1992 in Norway and boasts an engineering centre of excellence. It established local operations in the Kingdom of Saudi Arabia in 2008 after remote operations for five years for various clients in the GCC.
"Interwell KSA is now incorporated as a 100 per cent legal entity in the Kingdom of Saudi Arabia to support the in-kingdom value addition (iktva) programme, which is something we as a local company strongly believe in and, therefore, remain committed to do our best to build lasting values on the ground in the Kingdom," according to the General Manager, Geir Owe Egge.
Unique portfolio of RBP plugs qualified to the highest industry standards
Interwell continues to focus on technology innovation deployed in a sustainable manner for its clients. "Today, we work closely with Aramco servicing demands with our innovative and proven toolbox both onshore and offshore. Interwell is continuously improving current technologies and developing new product solutions to support Aramco's needs and challenging wells," says Egge.

COMMITMENT TO LOCALISATION
"Interwell was established in the Kingdom to support our forward-looking ambitions and plans to develop our local organisation and operations with Saudi talents. The objectives include benefitting from future supply chain capabilities within the country and focusing on Aramco's needs relative to what we do in terms of wellsite efficiency through technology, innovation and service quality. Our current operations will form the basis of our iktva commitment and future investment plans within the kingdom," according to Egge.

SUSTAINABILITY
Interwell acknowledges its responsibilities and remains committed to balancing environmental protection with sustainable development. It delivers products and solutions that improve and secure existing oil and gas wells.
"Interwell's core focus is based on a circular business model, whereby most of our equipment, unless permanently installed, has a multi-use capability in majority of well intervention applications.
"Our unique toolbox offerings provide our customers with products that significantly contribute to their carbon reduction goals by following the circular carbon economy model — the 4 Rs': 'Reduce, Reuse, Recycle, Remove'," says Egge.
The CannSeal specialises in downhole annular isolation using epoxy resins
The company's product portfolio has different CO2 emission abatement potential. Intervention (water shut-off), inactive wells and permanent P&A are the segments with the highest potential. Completion (shatter technology) also has significant potential especially offshore applications.
• Water shutoff utilising high expansion (HEX) plugs: Interwell's thru tubing retrievable high expandable plugs (HEX/THEX) are often used in well interventions where the aim is to reduce water production. The plugs are able to pass through severe restrictions in the wellbore where regular retrievable bridge plug (RBP) can't access. The plugs have unique capabilities for thru tubing accessibility and offer an expansion ratio from 40-90 per cent depending on well configuration.
This technology can also be used in certain open hole formations, if the conditions are suitable and still consolidated and if these open hole applications are still retrievable. This may have a significant impact on enhanced oil production from a well by keeping as much water in place rather than producing, separating and re-injecting the produced water.
• Anchored production straddles (APS): Interwell's straddles are flexible solutions that are used very frequently for well integrity issues as well as water shutoff solutions. These versatile retrievable straddles are available in single run and multirun types as well as different expansion ranges.
Getting wells with integrity issues back into production using a rigless unit represent a very cost-effective alternative to a full workover using a rig. All straddle solutions are fully retrievable and can be redressed and rerun.
• Completion products: Interwell's portfolio of completion glass (shatter) products are ISO 28781 V1 and ISO 14310 V0 certified barriers. When the glass plug is cycled open (shattered) remotely, the products allow full-bore access to the well. The Interwell developed glass plug are tested to 10.000 PSI at 170 deg C.
In addition to multicycle and single cycle glass plugs, Interwell has developed the Inter Remote Bypass Valve (IRBV) that allows for circulation during installation/deployment.
The IRBV remote operates with three positions: open, closed and permanently open, and has been successfully installed and operated in over 40 subsea and platform wells to date.
By using the IRBV, the operator eliminates the requirement of intervention when completing the well and can save from two to six days of rig time.
• CannSeal: The CannSeal is a new technology offering by Interwell, a technology that specialises in downhole annular isolation using epoxy resins. Using a dedicated electrical wireline deployment tool, an epoxy-based sealant is transported into the well where the tubing/casing is perforated, and the sealant is injected into the annulus in one single run.
This is a significant cost-effective solution that allows wells with integrity concerns to be put back into production without a full-scale workover and re-completion. It can also be deployed to precisely place an annular seal in order to mitigate water production, regardless of the well angle.
• Plug & Abandonment (P&A) solutions: Interwell's newest and superior P&A solution, RockSolid, is a pioneering, industry changing exothermic-based formation-to-formation barrier. The solution permanently reinstates caprock integrity across the well cross section, sealing it vertically and horizontally. The solution aims to be independent of well design, application and formation type.
The targeted and controlled exothermic reaction acts like magma, melting the surrounding steel well elements and solidifying back to solid rock again. The solution is conveyed riglessly.
RockSolid™ was developed and tested in-house in Norway and field trialed. It was proven to be a safe and more cost-effective and sustainable option than existing P&A methods available to our customers.
After numerous tests and redesign, RockSolid™ has now been commercially released for single casing applications as a cost-saving and effective alternative to section milling resolving sustained annulus casing pressure challenges.

ENERGY TRANSITION
Interwell is present in all well lifecycle segments relative to energy transition, including energy storage (gas caverns), carbon storage (CCS/CCUS), geothermal, and blue hydrogen. It has built vast experience over the recent years on several projects within the energy transition space.