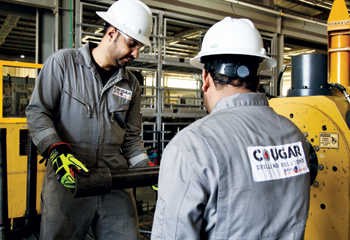 TAQA supports customers from the initial stage of drilling all through the lifespan of the well
The KSA company's comprehensive array of solutions help tackle reservoir characterisation and well production challenges in an integrated approach with its outstanding wireline logging, drilling related logging and well completion services

TAQA's overall growth strategy is centred on creating value for its stakeholders through cutting-edge technologies, advanced management systems and a forward-thinking-innovative mindset.
The KSA-based company is positioned to continuously expand its offerings, covering a wide spectrum of well formation and well production evaluation services, supporting its customers in efficiently harnessing the full potential of their reservoirs.
As a customer-centric company, TAQA thrives on the need to always keep innovating through developing and deploying technologies, products, and services, enabling it to build lasting long-term relationships of mutual growth with its customers.
TAQA offers a comprehensive array of solutions to tackle reservoir characterisation and well production challenges in an integrated approach with its outstanding wireline logging, drilling related logging and well completion services, including:
• Open hole and cased hole formation evaluation capabilities through its extensive range of wireline and logging while drilling services.
• Reservoir mapping and related formation evaluation capabilities through the electromagnetic propagation resistivity-based distance to boundary services.
• Production logging evaluation and associated well integrity services that are aimed at prolonging the lifespan the oil and gas wells.
• Hydraulic fracturing services for both complex conventional and demanding unconventional reservoirs.
TAQA has the ability to carry out the most complex open hole formation evaluations, including basic quad combo (gamma ray, resistivity, density, neutron porosity and sonic) measurements, allowing basic and moderately complex reservoir formation evaluations to be carried out effectively, as well as basic triple combo (gamma ray, resistivity, density and neutron porosity) measurements while drilling, which allow for 360-degree measurement change visualisation around the borehole, a vital step for well placement services.
For the cased hole formation evaluation, TAQA is exploring pulsed neutron related acquisition that will facilitate conducting petrophysical interpretation using formation sigma and carbon-oxygen ratio measurements when combined with open hole measurements, in addition to single phase, multi-phase, and array production logs which enable the evaluation of dynamic reservoir properties such as production profiling, thus providing a near complete picture of the reservoir's capabilities.
TAQA also offers resistivity-based reservoir mapping services through cutting edge electromagnetic propagation resistivity services and software. This software inverts resistivity measurements to provide a map of the resistivity-based reservoir boundaries in real time to guide the proper placement of the wells.
Value creation by TAQA through state-of-the-art equipment,
groundbreaking technologies and highly skilled professionals
It is also capable of inverting for the horizontal and vertical resistivity measurements necessary to evaluate anisotropic environments, enabling a more precise computation of the petrophysical interpretation results.
TAQA's capabilities in well integrity consist of its multi-barrier electromagnetic (EM) corrosion services allowing simultaneous evaluation of tubing and the casing behind it.
The multi-finger caliper for reliable internal diameter measurements of tubing or casings allows detection of internal anomalies, and its baseline and timeline rate analysis provide the engineering teams the answers they need to effectively select the type of metals required for the tubing in oil and gas fields and helps identify liner or tubing deformation, leak detection and scale deposition analysis. Additionally, the radial cement bond logs services that TAQA provides are invaluable in identifying casing annulus, which gives an indication of where to perform squeeze operations as well as the spectral noise log which helps in identifying tubing and casing leaks and detecting all well integrity issues.
TAQA is positioned to be the leading stimulation and hydraulic fracturing service provider in the region and is focused in the near-term on expanding its services and capabilities through the localisation of all required resources for premium, cost-effective service delivery.
The hydraulic fracturing services the company offers are primed, tested, and ready to deliver in unconventional and conventional reservoir completions. The equipment is innovative, requiring minimal operating hours and is equipped with the industry's standard components, which can deliver a maximum operating surface pressure of 15,000 pounds per square inch and over 100 barrels per minute pump rate.
By combining proven and field-tested durability, a robust preventative maintenance program, and continuous operations support capacity and equipment reliability, the available time for pumping is ultimately maximised.
TAQA's full suite of hydraulic fracturing fluid systems are supported by a fully equipped laboratory, and a supply chain focused on developing new and advanced products locally, for the region and beyond.
Additionally, its engineering services, which are focused on fracture geometry optimisation and well effectiveness, with custom-tailored stimulation treatments and unique solution enabling the company to not only drive value creation for its customers but to maximise it.
With its foundation of highly skilled professionals, and the value creation potential of its state-of-the-art equipment and groundbreaking technologies, TAQA provides operational excellence safely and consistently and can support its customers not only at the initial stage of drilling, but all through the lifespan of the well.
TAQA's agility and focus on innovation and service quality have been primary factors in it being recognised locally, regionally, and internationally as a first-class service company.