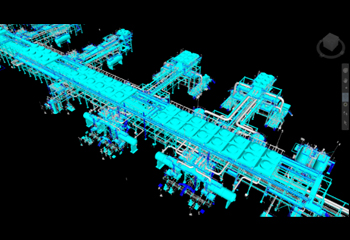 3D laser scans can add value to operating facilities
Applicable to any brownfield project, 3D laser scanning enhances the quality of modification and tie-in design, while adding value to operating facilities for future expansion and maintenance, write Naif Al Otaibi and Jeongcheol Yoo of Aramco

It is a challenge for any project management team to execute a brownfield project, due to the risk of rework and extended shutdown for the existing operating facility. This will entail production loss and ultimately loss of revenue.
The Marjan Onshore Oil Facility (MOOF) Project will add an additional train to Tanajib Oil Plant, as part of its scope that further includes -along with the modifications in the existing trains - utilities, flare system, and jump-over connections to enhance flexibility to plant operations.
Mansour Al Mutairi, a Senior Operation Representative, said the biggest concern in this project is how these tie-ins will be executed to ensure minimal production interruptions.
The usual project execution for this type of project is to do site surveys and take physical measurements to develop the design packages. This approach takes a long time to execute with more potential inaccuracies.
Therefore, the project team has used advanced 3D laser scanning to shorten the survey time, increase the accuracy, and avoid future rework, as well as a potential extended shutdown.
Badr Burshaid, Manager of Marjan and Zuluf Increment Projects Department (MZIPD), said the project management team (PMT) has moved from the traditional way of executing the projects, by introducing many technologies to reduce the project execution time, minimise its cost, and improve its quality and safety.

3D LASER SCANNING WORK FLOW
3D laser scanning of existing facilities will be carried out to collect physical information, using Point Cloud, TruView, and 3D modeling methods.
To optimise the process and work flow, 3D laser scanning will be carried out in the following sequence:
• Perform a traversing survey and verify the topographic reference system to detect errors that could affect the subsequent data collection and treatment.
• Perform laser scanning and control survey.
• Undertake preliminary registration and quality assurance (QA) of data at the end of each working day.
• After completing scanning for each area, transfer data in a batch to the processing team.
• Register, orient, and generate a database.
• Submit the Point Cloud database.
• Submit the TruView 360-degree-view image.
• Convert the Point Cloud into a 3D model.
• Prepare the survey report.

3D LASER SCANNING DELIVERABLES
3D laser scanning provides Point Cloud in IMP format, TruView photorealistic scan view, and a non-intelligent 3D Model.
Point Cloud is the result created by a 3D scanner, which is a data file that shows the shape and appearance of objects with numerous points.
TruView is a web-based panoramic Point Cloud Viewer. The users use functions such as review, plan, zoom, measure, and mark-up point cloud data through the web.
3D Modeling is made by importing the point cloud data and use catalog data.
Future application: 3D laser scan is applicable to any brownfield project, which will enhance the quality of modification and tie-in design. 3D laser scan deliverables will add value to operating facilities for future expansion and maintenance.