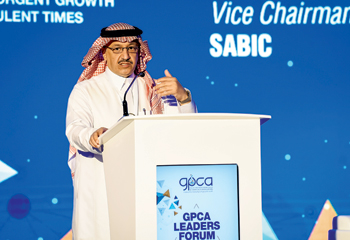 Al-Benyan at the GPCA Leaders Forum ... calling for change
The chemicals giant posted strong financial performance, continuing the margin improvement during Q1 driven by higher sales volumes and prices, and supported by a rise in oil prices and a healthy demand balance for its key products

Sabic's announcement of its second quarter earnings for 2021 coincided with the first anniversary of Aramco's acquisition of a 70 per cent stake in the global chemical manufacturing giant.
During this period, several work streams have been introduced to capture synergies to drive more efficiency and add customer value.
These work streams, which have realised $230 million of value by the end of Q2 2021, include a recently announced realignment of sales and marketing activities.
Specifically, this realignment involves the transfer of marketing and sales responsibilities for a number of petrochemicals and polymers products to SABIC, with Aramco Trading Company (ATC) focusing on fuel products.
The changes reflect that SABIC is now the chemicals arm of Saudi Aramco, in line with both companies' long-term strategies.
For Q2 2021, SABIC registered SR42.42 billion ($11.31 billion) in earnings, representing an increase of 13 per cent compared to the previous quarter and a 72 per cent increase year-over-year.
Income from operations for the quarter totaled $2.68 billion, a 45 per cent increase quarter-over-quarter, while net income during the second quarter amounted to $2.04 billion, an increase of 57 per cent compared to Q1 2021.
Yousef Al-Benyan, SABIC Vice Chairman and CEO, said: "SABIC's financial performance in the second quarter was strong, continuing the margin improvement seen during the first quarter of 2021. This was driven by higher sales volumes and prices, supported by a rise in oil prices and a healthy supply and demand balance for most of our key products as the global economy continued its path to recovery."
He said SABIC's ability to capitalise on improving external conditions was boosted by the company's wide-ranging transformation program and robust capital discipline. In 2015, the company implemented the programme to evolve its operating model and increase competitiveness, sustainability and innovation.
Al-Benyan also highlighted SABIC's continued focus on shareholder returns. SABIC's board recommended a cash dividend distribution of SR1.75 per share for H1 2021, approximately 17 per cent higher than the cash dividend distribution of SAR 1.50 per share for H2 2020.

CIRCULAR ECONOMY
In Q2 2021, SABIC also demonstrated its continued commitment to sustainability through a number of high-profile initiatives including the launch of a new recycled material made from ocean-bound plastics and high-profile collaborations that introduced SABIC's certified circular polymers across various sectors including personal care and construction.
Al-Benyan has previously urged the industry to shape a new reality by seizing the opportunity for change.
"We have long stressed the need for dynamic transformation in our industry and the pandemic has shone a spotlight on the successes of early adopters who moved ahead of time. But it also exposed the limitations of those who hesitated. The post-pandemic reality requires us to fundamentally change how we think about growth, innovation, and our operating models," he said at the GPCA Leaders Forum.
SABIC's commitment to accelerating a circular ecosystem has resulted in it being recognised by consulting firm Frost & Sullivan as a Global Company of the Year 2021 for efforts in sustainability and the circular economy of used plastics recycling and resource recovery.
This prestigious award highlighted some of SABIC's recent achievements in the quest to prevent valuable used plastic from becoming waste, such as the recently announced value chain collaboration with Procter & Gamble and the Fraunhofer Institute to demonstrate the feasibility of closed-loop recycling for single-use facemasks, or the launch of a new material made from recycled ocean bound plastic for new consumer goods and electronics applications.
"SABIC's Trucircle portfolio and services have found significant adoption among businesses looking for commercially and environmentally viable solutions," noted Riana Barnard, Best Practices Research Analyst at Frost & Sullivan.
"With its deep commitment to innovation and technology, bolstered by pioneering partnerships and leadership excellence, SABIC is all set to continue leading the global market for more sustainable material solutions."
In 2019, SABIC launched its Trucircle portfolio and services to help provide customers with more sustainable solutions and at the same time help close the loop and prevent valuable used plastic from becoming waste.
As part of this program, which includes design for recyclability, certified renewable products from bio-based feedstock and mechanically recycled products, SABIC launched its pioneering certified circular products from advanced recycling of mixed and used plastic. The initial introduction to the market has resulted in unprecedented demand from businesses looking for commercially and environmentally viable solutions.
Committed to driving the uptake of recycled plastic, SABIC was the first in the industry to commit to investments in advanced recycling, and a world-first commercial plant is currently under construction at its Geleen site in the Netherlands.
The company collaborates with players across the entire value chain to reshape our society, industry, frameworks, and governing structures and drive systemic change to create the right conditions for a circular economy.
SABIC was also recognised for a third consecutive year by the Association of International Chemical Manufacturers (AICM) with a Responsible Care award for fulfilling its corporate social responsibilities.