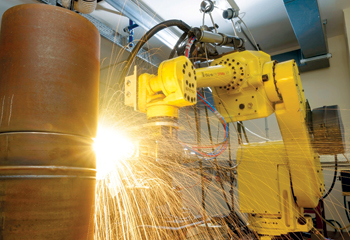 A laser plus gas metal arc welding of a pipeline
The university Welding Engineering and Laser Processing Centre plays a significant role in improving practices in the energy sector in partnership with key industrial stakeholders, and aims to train the next generation of engineers

Cranfield has a distinctive approach to manufacturing research, education and training; it combines expertise in design, technology and management, along with research into materials sciences, all with a focus on manufacturing.
The university's Welding Engineering and Laser Processing Centre's (WELP) major areas of research are focused on metal additive manufacturing - the 3D printing of large-scale parts - and new methods of fusion joining. The research is scientifically based but industry focused.
The centre is recognised for the impact of its research into advanced fusion methods on industry, through sponsored master's and PhD research, and its rolling technology development programme on additive manufacturing.
An advanced GTA welding power source
The centre's wire plus arc additive manufacture (WAAM) programme aims to make the UK a leading technology provider in terms of transforming practice and creating a commercial option. Industry partners in WAAM include BAE Systems, Bombardier and Fokker.
'We have had a significant role in improving practices in onshore and offshore pipeline manufacturing with industrial partners such as Hereema Marine Contractors and Technip,' Samina Masood, Business Development Manager at Cranfield University, tells OGN.
'Our other stakeholders include UK and EU government bodies as well as partners in the aerospace (Airbus, ARA), aero-engines (Rolls-Royce), defence (Lockheed-Martin), nuclear (AWE), shipbuilding (BAE surface ship), medical (Attica) sectors, as well as among welding power source manufacturers (Air Liquide, Fronius, TPS, Lincoln),' she adds.

INDUSTRY FOCUS
Established in 1961, Cranfield University's WELP is a flagship global institute, which does fundamental and applied research in the area of advanced fusion welding processes and wire based directed energy deposition additive manufacture (w-DEDAM).
WELP is the fusion process owner of the EPSRC sponsored Centre for Innovative Manufacturing in Laser, which is a large consortium of industry and academia focused in increasing manufacturing productivity in UK by increasing application of laser in the sector.
'As an internationally leading centre, our main strength is in performing disruptive research in the areas of advanced manufacturing with a vision to perform transformative research and providing technology enabled advanced solutions for cost effective manufacturing,' says Dr Supriyo Ganguly, Associate Professor in Welding and Additive Materials Science.
Activities at WELP are based around a laboratory, housing a variety of laser and arc welding facilities with a large-scale material handling facility. The facilities are equipped with robots to enable automated welding and make use of the latest quantitative analysis technologies to model the weld processes necessary for making fundamental analyses.
The research laboratory is built over an area of 700 sq m and operates in an open architecture principle that enables performing tailored and focused applied research programmes for industries and more fundamental, lower technology readiness level research programmes funded by the research council of UK.
The major advantage of WELP's laboratory and open architecture systems is to promote scalability to a level where technology developed can be easily transferred to our industrial partners.
During the last 15 years, strategic and focused research in the area of process, metallurgy and integrity of components built by w-DEDAM, has put WELP as an internationally leading centre for manufacture of complex and safety critical components in this area of manufacturing.
The centre has also grown significantly in the last 10 years and currently has 17 research students and 16 fulltime equivalent masters students. There are about 6 academics and 17 research fellows working in delivering different research projects in the areas of welding and metal additive manufacture.
'Our research into manufacturing attracts significant industrial, European and UK research council funding. Our Centre research turnover is approximately £2.5 million ($) with a split of 50:50 between applied (higher TRL) and fundamental research,' says Dr Supriyo.
The centre currently delivers two MSc courses in Welding Engineering and Metal Additive Manufacturing.
The Welding Engineering course has been in existence since 1961 and has quintuple accreditation from TWI, IoM3, IET, IMechE and RAE, the Professional Accreditation, Professional Statutory and Regulatory Bodies (PSRB).
The Metal Additive Manufacturing course was started in 2019 and is a result of a collaborative efforts between EWF, Portugal; Birmingham University and Cranfield University through a European funded ADMIRE grant. This course is currently undergoing the accreditation process.
The staff-to-student ratio across both the courses is 1:3, which allows robust interaction between the academics and students for a long-term productive relationship.
Students from these courses can obtain a chartered status and can pursue their careers in a range of industrial sectors. They can also move into research and higher education/training by further reading a research degree programme.
'Both courses provide all fundamentals supplemented with state-of-the-art learning based on our industrially focused applied research projects. The Masters individual research projects are aligned with and feed into our overall research strategy and programme,' concludes Dr Supriyo.