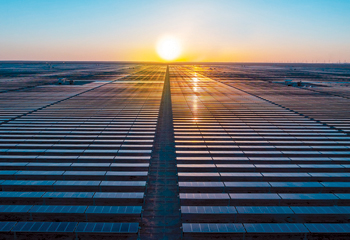 The Sudair solar power plant will power 185,000 homes
Using bi-facial modules with tracking technology, the plant will deliver highly efficient performance and power 185,000 homes, while offsetting nearly 2.9 million tons of emissions per year

ACWA Power and Aramco have completed project financing for the construction and development of the Sudair solar power plant in Saudi Arabia.
The 1500-MW solar plant is a key project under the Public Investment Fund's (PIF) renewable energy programme, and is being constructed at a total cost of SR3.4 billion ($910 million) through a special purpose vehicle called Sudair One Renewable Energy Company. It is expected to start production in H2 2022.
Once complete, the project will become one of the largest single-contracted solar plants in the world and the largest of its kind in Saudi Arabia.
A 25-year power purchase agreement for the plant was signed with the Saudi Power Procurement Company with the tariff being among the lowest for solar PV projects globally.
Using bi-facial modules with tracking technology, the plant is set to deliver highly efficient performance and be capable of powering 185,000 homes, while offsetting nearly 2.9 million tons of emissions per year.
Aramco holds a 30 per cent stake in the Sudair solar project through its fully-owned company SAPCO, while ACWA and Badeel (PIF owned) each hold 35 per cent.
The project is being financed by Mizuho Bank, Riyad Bank, Korea Development Bank, Arab Petroleum Investments Corporation (APICORP), Al Rajhi Banking & Investment Corporation, and Standard Chartered Bank as senior lenders and Mandated Lead Arrangers. The equity bridge facilities are provided by Bank Al Bilad, Saudi British Bank and SMBC International.
Aramco's investment in the Sudair solar plant project is its first participation with PIF in its renewable energy programme, and reflects the company's efforts to advancing sustainable energy solutions within its operations.
Renewables is one of the 13 priority sectors that the Public Investment Fund (PIF) has identified as a key focus area in its Strategy 2021-2025, which focuses on unlocking the capabilities of the private sector and increasing local content contribution to 60 per cent.
The Kingdom is working to diversify the energy mix to produce electricity, by increasing the share of gas and renewable energy sources in it, and is displacing liquid fuel and replacing it with natural gas, as part of its plan to generate 50 per cent of its energy from renewables.
Last month, the Saudi Authority for Industrial Cities and Technology Zones Modon announced the construction of two renewable energy plants on a total land area of 12 million sq m.
The plants will have a capacity of 600 MW and will be implemented in the Third Industrial City in Jeddah and the Industrial City in Rabigh.
Separately, Saudi Arabia's first wind farm started power generation last month. The 400-MW Dumat Al Jandal, which is being developed by the UAE's Masdar and France's EDF Renewables in the north of the kingdom, will power up to 70,000 Saudi households when it's fully complete.
The wind farm will supply electricity under a 20-year power purchase agreement with the Saudi Power Procurement Company, a subsidiary of Saudi Electricity Company.