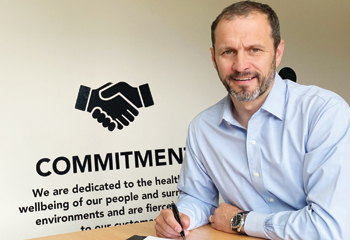 Dick ... rising demand in KSA for
OSSO, a specialist fluid temperature control and separation solutions provider, has signed a partnership agreement with Medra Arabia, a national diversified oil and gas service company in Saudi Arabia, for advanced drilling solutions.
According to agreement OSSO will provide clients with direct access to its rental fleet of equipment, along with rig site support and heat transfer solutions.
The partnership meets the current need for advanced drilling solutions due to the high temperature and deeper wells in the region.
Currently, customers are looking for a solution that enables them to actively manage the mud and downhole well temperatures, to mitigate risks, preserve tool life, and avoid any costly delays due to thermal fracturing.
The partnership will enable OSSO to significantly reduce turnaround time of equipment and personnel, providing a greater economic support structure with added expert local knowledge. It also provides additional on the ground technical support to customers, overcoming current travel restrictions due to Covid-19.
Furthermore, OSSO will provide in country training on its technology and equipment to upskill Medra's in-field engineers while enabling additional in-kingdom value addition.
Commenting on the agreement, Abdur Rahman Adil, General Manager at Medra Arabia, says: "We're delighted to join forces with OSSO. Together our teams will make up a strong powerhouse of technical expertise and rig site support. Through this collaboration our engineers will have the opportunity to expand their upstream oil and gas knowledge, which will be invaluable to the region, our business and customers, and is in line with Saudi Vision 2030."
On the other hand, John Dick, Business Development Director at OSSO, says: "We've seen a need for advanced fluid cooling solutions and a demand for improved efficiencies in Saudi Arabia to handle deeper and more complex wells. This partnership also enables us to grow our mechanical separation services by offering wastewater and lube oil cleaning expertise as well as diesel purification solutions.
He says despite Covid-19 posing a major challenge for suppliers that hasn't stood in the way of delivering to customers. "We've also been working in Saudi Arabia for the past seven years and this partnership with Medra will enable us to expand our operations at an accelerated rate," Dick adds.
The deal marks a significant milestone for OSSO as the first partnership signed under its new brand and ambitious international growth plan, expanding its oil and gas presence on-and-offshore.