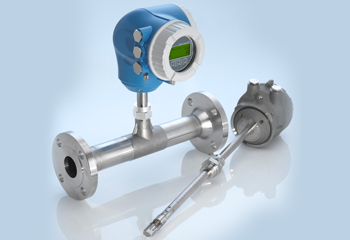 Proline t-mass F 300 with flange connections and a t-mass I 500
A reliable and versatile instrument for pure gases and gas mixtures, the Proline t-mass F/I 300/500 supports plant managers to optimise plant performance while reducing operating cost and complexity

Endress+Hauser has introduced a flow meter that enables plant managers to boost the efficiency and availability of their steam plants.
Providing the most accurate and reliable control of airflow to burners, Proline t-mass F/I 300/500 devices guarantee optimised burner control and thus help fulfil requirements necessary for compliance with ISO 50001.
Thanks to Heartbeat Technology onboard, the flow meters can monitor all process condition changes and offer permanent instrument health surveillance.
Reverse flow detection and bidirectional measurement help minimise potential risks. If condensate or pulsating flow occur, the instruments generate an alarm alerting the operator that corrective actions are needed. The flow meters can easily be installed even in reduced spaces and are available with a flow conditioner. The built-in conditioner can minimise unwanted swirls and distorted velocity profiles that both impair measuring accuracy.
Endress+Hauser has successfully installed over 100,000 t-mass flow meters in compressed air and gas applications worldwide. Based on this experience, the measurement instrumentation specialist has developed a new thermal mass flow meter, which supports plant managers in their ongoing effort to optimise plant performance while reducing operating cost and complexity.

ACCURATE AND ROBUST
Even when process and ambient conditions are fluctuating significantly, Proline t-mass F/I 300/500 ensures high measuring accuracy (±1.0 per cent) with excellent repeatability (±0.25 per cent). Gas flows with low pressure and a low flow velocity can also be measured without any problems thanks to the high turndown (up to 1000:1). The t-mass F and t-mass I sensors feature maximum robustness, enabling them to withstand such factors as pipe vibrations, solid particles in the gas and process fluctuations, for example, temperature shocks.
Thanks to its patented innovative sensor design, it is possible to operate the device over the long-term without any maintenance, thus saving time and money for the user.
All wetted parts are made of corrosion-resistant steel to ensure high compliance standards and long-term operation. For gases that form an unwanted coating in the pipe, the sensor can be removed for cleaning work and reinstalled quickly and easily, without impairing the measuring performance. T-mass F and I sensors are used at process temperatures up to 180 deg C (356 deg F) and pressures up to 40 bar (580 psi).

ALARM FUNCTIONS FOR GREATER RELIABILITY
The t-mass F/I 300/500 devices are equipped with alarm functions that are used for immediately detecting unwanted condensate drops on the sensor or pulsating flow. In the case of condensate, this can prevent the emergence of long-term corrosion damage in piping systems.
Another key feature is the ability to measure and account for gas flows in both flow directions (bidirectional) and to generate an alarm message for reverse gas flows.
Because the measuring system has been developed in accordance with IEC 61508 (SIL 2), it can also serve as the preferred system in safety applications. Any device or process errors that may occur are clearly categorised in accordance with NAMUR NE107 and immediately indicated. This makes it possible to take fast and targeted countermeasures.

HEARTBEAT TECHNOLOGY FOR DIAGNOSTICS, MONITORING, AND VERIFICATION
Heartbeat Technology is integrated into all Proline measuring devices and enables permanent self-diagnostics with the highest diagnostic coverage (> 95 per cent) as well as a metrologically traceable device verification without process interruption.
For safety reasons, Heartbeat Technology also has a 'Heartbeat Sensor Integrity' test function for detecting changes to the measuring electronics and/or sensor as a result of extreme environmental and process conditions. Heartbeat Technology reduces complexity and risks in a system and thus increases its reliability and availability.
Proline 300/500 transmitters include a web server as standard. Using a standard Ethernet cable and a laptop – or wireless via WLAN – users have direct access to all diagnostic, configuration and device data without additional software or hardware. This enables targeted and time-saving maintenance and service.
The data storage concept (HistoROM) ensures maximum data security before, during and after service. All calibration data and device parameters are stored securely on the HistoROM data storage module and are automatically reloaded after maintenance work. Therefore, installing spare parts is easy, saves time and thus reduces unnecessary downtimes.
The t-mass F/I 300/500 sensors can be combined with two different transmitters: as a compact version (Proline 300) or as a remote version (Proline 500) with up to four inputs and outputs.
The digital signal processing begins in the intelligent sensor and is the basis for real multivariable measurement. This means that t-mass can simultaneously record multiple measured values such as mass flow, flow velocity or gas temperature for process control, and forward them to a process control system.
Complete access to all measurement data, including diagnostic data acquired by Heartbeat Technology, is possible at any time – thanks to digital data transmission via HART or Modbus RS485, as well as via WLAN or the freely combinable inputs and outputs.

GAS ENGINE FOR HIGHEST FLEXIBILITY
The t-mass F/I 300/500 measuring system is equipped as standard with the Endress+Hauser 'Gas Engine', which is a software-based data set consisting of typical standard gases and their properties. Gas Engine offers an exact measurement of pure gases and gas mixtures for current operating conditions.
Users can choose from 22 standard gases or create gas mixtures by combining up to eight of these gases. Gas Engine is also capable of calculating additional process variables such as flow velocity, reference density, corrected volume, and energy flow. Other features include the dynamic correction for changes in pressure, temperature, and gas composition as well as the possibility to change programmed gases without recalibration.
Additionally, Gas Engine incorporates a switching function for two predefined gas groups via the status input, for example for flushing processes with an additional gas.
To know more, visit https://eh.digital/2VQH9i2.