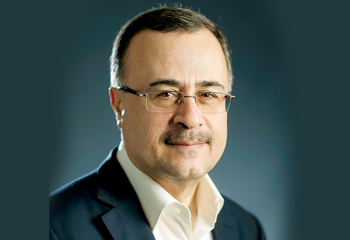 Nasser ... committed to energy transition
The world's largest oil producer continues to create additional value by optimising its portfolio, in alignment with its long-term strategy of further integration and diversification of its operations

Aramco's bumper first half profit could be a telltale sign the oil industry has left behind somber days and is on the road to recovery. Oil prices are hovering a little over $70 and a strong demand for chemicals has also bolstered global markets, which are gradually opening up.
However, the instinctive volatility that the industry is known for can disprove even the best experts. Besides, the pandemic is far from over, says Aramco CEO Amin Nasser.
But for now, the world's largest oil producer has something to look forward to after it posted $25.5 billion in net income in the second quarter 2021, a whopping nearly 300 per cent increase over the same period last year, beating the prediction of analysts.
Aramco's income for H1 2021 was $47.2 billion, a 103 per cent increase over the same period last year. It also announced an $18.8-billion dividend for shareholders.
In July, Fitch Ratings revised Aramco's outlook from negative to stable.
The Fadhili gas plant ... Saudi Arabia is the world's sixth largest gas market
An added bonus for Aramco was the strong Q2 results from its subsidiary and global chemicals giant SABIC, which saw net profit jump 57 per cent to $2.04 billion for Q2 as it marked the first anniversary since its acquisition by Aramco (see report on page 49). This was SABIC's highest earning in 10 years and is a remarkable turnaround from the same period last year, when it posted a loss of nearly $870 million.
As an economy Saudi Arabia is still heavily reliant on oil for meeting its expenditures although an economic diversification roadmap to increase non-oil participation is very much in place.
Oil exports from the Kingdom in June increased 123 per cent to $16.4 billion from a year earlier, accounting for 72 per cent of total exports, while non-oil exports rose by 41 per cent.
In Q2, Aramco produced 11.7 million boed of hydrocarbons including 8.6 million barrels per day (bpd) of crude – in agreement with Opec+ output cuts – 8 per cent less than last year. But despite that its profits surged almost four times thanks to higher oil prices and a recovery in worldwide demand.
In July Opec+ decided to increase production by 400,000 bpd from August and stretching into 2022. The group of oil exporting countries is currently withholding about 6 million bpd, which it plans to gradually return to the market. Global oil demand is expected to grow by 5.95 million bpd this year as previous forecast by the group.
Nasser expected global oil demand to recover and hit 99 million barrels a day by the year-end and 100 million barrels next year. He said Aramco is working to increase its own crude production capacity to 13 million barrels day.
Opec+ is also facing pressure from the US to boost production in an effort to combat rising prices, amid concerns that rising inflation could derail the US's economic recovery.
In the upstream, Aramco has continued development, having added Ain Dar and Fazran crude oil increments with a combined production capacity of 175 mbpd during Q2, as the company's Q2 report showed.
Meanwhile, work on the Marjan and Berri crude oil increment programmes is underway. Once complete, the projects will add 300 mbpd and 250 mbpd, respectively, by 2025.
Diversifying funding sources ... Aramco could sell more pipelines, stakes in refineries,
power plants, and export terminals in the future
Saudi Arabia is now the world's sixth largest gas market and is tapping into new gas reserves to meet demand and decrease the use of oil. Currently, the Hawiyah Unayzah Reservoir Gas Storage project is in the final design phase with construction activities progressing. The program is designed to provide 2.0 bscfd of gas.
In the downstream, Aramco continues to create additional value by optimising its portfolio, in alignment with its long-term strategy of further integration and diversification of its operations.
In H1 2021, the downstream consumed 44 per cent of Aramco's crude oil production compared to 37.4 per cent in H1 2020.
The company's key downstream developments in Q2 this year include transferring the marketing and sales responsibility for a number of Aramco petrochemicals and polymers products to SABIC.
Since June 2020, SABIC has achieved $230 million of synergies with Aramco, driven by combining their purchasing power and sharing warehousing and logistics facilities.

SPENDING & INVESTMENT
Aramco's capital spending is on the rise; it is expected to be $35 billion in 2021, compared to $26.9 billion in 2020. In H1 2021, it spent 13 per cent more ($15.6 billion) than last year in the same period. In Q2, it was $7.5 billion.
The company has taken a number of measures to diversify its funding sources hit by the slump in oil prices and the coronavirus pandemic, including sales of stakes in its energy assets deals and unlock capital.
In June, it sold a significant minority (49 per cent) stake in its oil pipelines to a consortium led by US-based EIG Global Energy for $12.4 billion
'Our historic pipeline deal was an endorsement of our long-term business strategy by international investors, representing significant progress in our portfolio optimisation programme,' Nasser said.
Aramco is looking to further sell its gas pipelines under a leaseback arrangement, and could offer stakes in refineries, power plants, and export terminals in the future, a Reuters report said, adding that stakes in upstream projects such as hydrogen could also be put on the table.
In June, Aramco raised $6 billion through a landmark US-dollar dominated Sukuk, the world's largest and 20 times oversubscribed and which 'demonstrates further evidence of Aramco's unique value proposition, which is underwritten by its operational and financial resilience', as Nasser said.
In terms of investments, Aramco is working on a good number of deals.
The company is still going ahead with buying a 20 per cent stake in the oil-to-chemicals unit of Reliance Industries.
'India is a very important market for us. We continue to review opportunities in India,' Nasser said. 'We are still doing our due diligence (on the Reliance deal). We were delayed a little bit because of Covid-19 but we are back on track doing our due diligence.'
Both companies are engaged in advanced-level talks and a final announcement in this regard could come in a few weeks.
At the Reliance Industries annual general meeting this year, Aramco Chairman Yasir Al-Rumayyan was also appointed as an independent director on the board, increasing the likelihood of the Saudi oil giant purchasing a stake in the Indian refiner.
'His joining our board is the beginning of internationalisation of Reliance,' Reliance Chairman Mukesh Ambani said at the meeting.
Al-Rumayyan is also Governor of the Public Investment Fund (PIF), Saudi Arabia's sovereign wealth fund.
Saudi Arabia had also announced a $10-billion Aramco oil refinery early this year in Pakistan, although it was uncertain where it would be located. The refinery is meant to have 250,000-300,000 bpd oil refining capacity and a $1 billion petrochemical complex.
Meanwhile, a petrochemical complex in the US jointly being built by SABIC and ExxonMobil is expected to start operations by the end of 2021.
Once in full production, the new venture will add a welcome stream of additional revenue to SABIC's profitability and its market value. It is expected to reinforce the Kingdom's diversification into high-value hydrocarbon products through high-performance plastics, adding to SABIC's portfolio of agri-nutrients and metals, an Arab News report said.
Aramco's Q2 report said the company had set up a joint venture called PNL with TransCanada Keystone Pipeline through its subsidiary Motiva Enterprises to build and operate a pipeline in the US state of Texas. The total investment in the company is estimated to be SR458 million. Motiva has five per cent ownership in the JV.
And in March, Aramco acquired a 20 per cent equity ownership in Fuel Cell Innovation (FCI), a solid oxide fuel cell manufacturer in South Korea.

HYDROGEN
Aiming to be one of the largest players in the fuel of the future, Saudi Arabia is making strong efforts to become a key blue hydrogen and ammonia exporter and has the opportunity to gain a first-mover advantage in the markets for clean hydrogen and ammonia, Fitch said.
Saudi Arabia ranks 8th in Fitch's blue hydrogen index, which assesses the suitability of a given market for the development of a blue hydrogen industry (see report on page 50).
Saudi Arabia has been a first mover in the hydrogen and ammonia markets. In September last year, it partnered with SABIC on the world's first shipment of blue ammonia to Japan
Nasser said, developing blue hydrogen supply will depend on global demand and costs.
'Hydrogen is an area where we have a lot of focus on right now. We are interested in blue hydrogen and we identified good aquifers to sequester CO2,' he said, adding, 'We completed a lot of work so far. Right now when it comes what is our target, it will all depend on the markets that we are going to supply in the future and offtake agreements.'
According to Ahmed al-Khowaiter, Aramco's Chief Technology Officer, the global hydrogen demand by 2050 could reach 18 million boed.
'Confidently, by 2050 we will be a major player there. 2030 is harder to predict. If there is a market, we will be part of it. If the market does not show up, it doesn't scale, then that's out of our control,' he added.
The Kingdom's large natural gas reserves and the huge associated gas it produces along with crude oil enable it to produce blue hydrogen.
Aramco can leverage its carbon capture, utilisation and storage projects, such as the Uthmaniyah facility, which can capture 800,000 mt/year of CO2 and that CO2 can be potentially used to produce blue hydrogen.
In July, Neom city of Saudi Arabia formed a joint venture with New York-listed Air Products and Riyadh-based ACWA Power to create a $5 billion green hydrogen project, the world's largest. The project is expected to produce about 1.2 million mt/y of ammonia by 2025.
Last month, Saudi Arabia and Germany signed a memorandum of understanding to explore opportunities in the hydrogen field, state news agency SPA said.
Aramco is talking to potential buyers in Japan and South Korea, which it says will be major markets for the fuel.

GREEN GOALS
Nasser said Aramco remains committed to the global energy transition and views renewable energy as a complement to its own energy products, supported by vast solar and wind resources in-Kingdom.
Aramco is working on a number of strategic programmes, particularly focusing on sustainability and low-carbon fuels, and it is currently evaluating potential projects with partners to make investments in renewables, including the use of modern technology to fight climate change.
The company is a 30 per cent stakeholder in the 1,500-MW Sudair One Renewable Energy Company alongside ACWA power and Badeel for the $910-million Sudair solar PV plant (see report on page 36).
Mohammed Al Qahtani, senior Vice-President of Downstream at Aramco, said Sudair was one of several low-carbon energy options being deployed by Aramco.
Meanwhile, the Kingdom's first wind farm, Dumat Al Jandal, has also started operations. The project has a 400 MW capacity and can electrify 70,000 homes.
Early this year, the $320-million, 300-MW Sakaka IPP PV project was inaugurated. Spread over of 6 km, the project can give power to 45,000 households in the Al Jouf province, while help offset more than 500 tonnes of carbon dioxide annually.
The total capacity of all the renewable projects is 3.67 GW. They will provide power to more than 600,000 households and reduce greenhouse gas emissions by more than 7 million tons, according to the energy ministry.
Last month, plans were unveiled for two new renewable energy plants on 12 million sq m of land. These plants, with a capacity of 600 MW, will be built in the Third Industrial City in Jeddah and the Industrial City in Rabigh.
Saudi Arabia plans to decrease greenhouse gas emissions by 130 million tons by 2030, and is working to diversify the energy mix to produce electricity, by increasing the share of gas and renewable energy sources. These projects are said to play an important role in helping the Kingdom achieve its climate goals.
At the 4IR forum in Riyadh in June, Saudi Energy Minister Prince Abdul Aziz bin Salman hinted at using 4IR technology to transform the energy sector. Data will be a
Inside Aramco, the company has embedded a circular economy approach to reduce waste and keep reusing and recycling materials.
Seven key principles were developed through a task force and are being applied across the company's operations. These include design for the circular economy; build circular supply chain; reduce environmental impact; preserve and extend resources and asset lifecycle; using regenerative and renewable resources; turning waste into resources; and adapt innovative technologies.
In addition, energy intensity monitoring is done to analyse energy performance across all Aramco facilities. As of 2020, energy intensity initiatives have saved Aramco a total of 238 million barrels per day oil equivalent, as well as CO2 reduction of 27 million tons.
'The company's upstream greenhouse gas emissions (Scope 1 and Scope 2) for 2020 are now verified by an independent third party resulting in an upstream carbon intensity of 10.6 kg CO2e/boe. This reemphasises Aramco's leadership in achieving one of the lowest upstream carbon footprints in the industry,' Nasser said in the Q2 report.

CYBERSECURITY
Although not a stranger to cyberattacks, the energy industry has been slow in integrating technologies and systems to safeguard its interest in the online world, especially with the prevalence of digitalisation.
Aramco has itself been the victim of such attacks. In 2012, the Shamoom virus affected a part of its IT network. And in July this year, alarms went off once again when a data breach was reported through one of its contractors. However, Aramco's operations were not impacted.
The company has raised its guards and is investing to protect its assets from online threats.
In February 2021, Aramco and Raytheon Saudi Arabia established the Middle East Information Technology Solutions (MEITS) join venture to provide cybersecurity integrated software and hardware along with related training and managed professional services.
In May this year, Aramco, Siemens Energy and the World Economic Forum (WEF) jointly launched a blueprint for boards and business leaders to evaluate cyber risk and enhance cyber resilience across the industry.
It has also established the Intelligence Sharing Consortium in the Energy Industry to defend against cybersecurity threats.
Aramco's third-party Cybersecurity Compliance Certificate (CCC) Program ensures all third parties are in compliance with the cybersecurity requirements outline in the Third Party Cybersecurity Standard (SACS-002).

By Abdulaziz Khattak