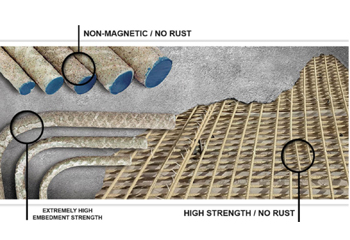 Nonmetallic materials are applied in the construction of new buildings and in the roof system, leading to improvement in the overall performance of plants and promoting overall environmental aspects, write Naif Al Otaibi and Muhammad Makkawi

Internal and external corrosion of carbon steel material has long been a problem for the oil and gas industry, as corrosion can adversely affect the reliable operation of a plant.
Research on corrosion issues has revealed that many industries have lost billions of dollars due to corrosion.
Carbon steel materials suffer from corrosion due to the presence of corrosive species, including H2S, CO2, and varying levels of water cut.
Exotic materials, such as stainless steel, duplex, and other alloys are being used to combat corrosion. In addition to their higher cost, longer lead procurement time is often required.
To minimise corrosion impact, deployment of nonmetallic product is an optimal cost-effective alternative, as crude oil and natural gas can carry products which are inherently corrosive.
Badr Burshaid, Manager of Marjan a Zuluf Increment Projects Department, said: "Promoting nonmetallic materials is in line with the company's effort to continually produce reliable and sustainable energy to the world, as this will result in an increased productivity and enhanced performance."
Marjan Onshore Oil Facilities (MOOF) is deploying nonmetallic materials in several services. This deployment will ensure minimising the lifecycle cost associated with maintenance or replacement, with less downtime.

COMPANY'S LONGEST AND LARGEST DIAMETER PERT-LINED PIPE
The major nonmetallic deployment in pipeline material for produced water disposal is the use of a 30-inch Class 900 polyethylene of raised temperature resistance (PERT-lined) carbon steel (CS).
The PERT-lined CS is around 7.7 km long and is being deployed to transport produced water from the new increment of the onshore oil facilities in Tanajib GOSP, to the produced water disposal well site location.
PERT is a polyethylene resin in which the molecular architecture has a sufficient number of tie chains incorporated to allow operation at elevated or raised temperature.
This technology has been deployed to ensure that the produced water fluid is carried out through a nonmetallic barrier, which fully conforms to company standards, and eliminates erosion and corrosion effects completely.
It is worth highlighting that this nonmetallic deployment will be the longest and largest diameter pipeline of PERT-lined technology in the company.

NONMETALLIC IN-PLANT APPLICATION
Piping: Further application of nonmetallic pipes includes deployment of locally fabricated HDPE pipe in all underground firewater systems and RTR pipe in potable water applications.
Tank: To combat corrosion in a severely corrosive environment, fibre reinforced plastic (FRP) tank lining is deployed for several tanks in WIP water treatment package and sewage treatment package.
Chemicals can be severely corrosive for metal storage tanks, resulting in possible leaks and tank bottom damage, with the consequence of expensive replacement and down time where FRP tank will alleviate this concern completely.

NONMETALLIC IN BUILDING & CONSTRUCTION
Chemical Polymer will be deployed as another nonmetallic application for berm stabilisation to provide erosion protection and dust control in lieu of marl capping, allowing cost saving and schedule optimisation.
FRP manhole is deployed as a nonmetallic application for sanitary sewers in lieu of concrete manholes.
This deployment is considered to be a highly conforming cost-effective material due to its corrosion resistance, and the light weight of this material offers easy construction.
Since this is a prefabricated element, this can be installed faster, which enhances site safety avoiding open excavations for prolonged period.
With the same advantages of FRP manholes, FRP material is extensively deployed in the form of rebars in all noncritical concrete structures to replace the ordinary steel reinforcement.
Additionally, nonmetallic materials are being applied in the construction of new buildings, including the use of ethylene propylene diene monomer (EPDM) waterproof membrane, and in the roof system as a single ply membrane with several benefits, such as easy maintenance, durability, and resilience other than lowering cooling costs.
The deployment of nonmetallic materials has been adopted in full collaboration with other stakeholders including engineering services and operations. This initiative will improve the overall performance of the plant and promote overall environmental aspects.