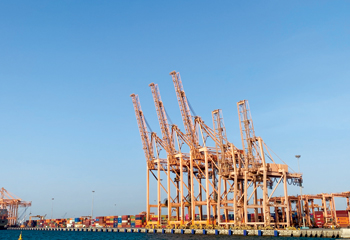 Jubail Container Terminal featuring the newly added Super Post Panamex quay cranes
The company has already implemented a strong expansion plan, investing in dredging, additional cranage, IT systems, and training to make Jubail the port of choice on the Eastern Province, Jason French tells OGN

Anyone who knows anything about the oil and gas region called the Eastern Province in the Kingdom of Saudi Arabia knows there is an adage among the drillers: "if the drill ain't turning… we ain't earning". At very high rates a day, any container or piece of general cargo that is delayed getting to the site, or being exported, costs money.
Based in the heart of the Berry Oil field in Jubail, the Gulf Stevedoring Contracting Company (GSCCO) boasts a history of over 35 years of managing 14 port concessions.
GSCCO is the only terminal operator to have handled over 35 million twenty-foot equivalent units (TEUs) and 10 million tonnes of general cargo in the Kingdom.
According to company Managing Director and industry veteran Jason French, with the current quay cranes rates of over 35 moves per hour (MPH) for containers, GSCCO is probably one of the most productive terminal operators in the region.
GSCCO, founded in 1985, was specifically set up to solve complex supply chain issues and to this day is at the forefront of the KSA maritime port sector. In 2013, it became part of the Sharjah- based Gulftainer group, one of the world's leading privately owned, independent container terminal operators in the world.
The company's success has been built on a long tradition of providing a first-class service to its clients: shipping lines, importers and exporters, and logistics providers.
Its partnership with the Kingdom's authorities has also been part of the success. Working with Saudi Ports Authority (Mawani)/Ministry of Transport (MOT), GSCCO developed the Port of Jubail since 2008, taking the then-small port from 50,000 TEUs to over 700,000 TEUs now.
French comments: "GSCCO is not planning to rest any time soon. We have already implemented a strong expansion plan, investing in dredging, additional cranage, IT systems, and training to make Jubail the port of choice on the Eastern Province."
In January 2021, GSCCO also launched its inland container depot (ICD)/empty container yard (MT) Park inside the port, which has provided flexibility for all exporters and engineering, procurement, construction and installation (EPCIs) for imports and storage.
Today, GSCCO's corporate strategy is heavily driven by KSA's Vision 2030 to transform the Kingdom as a global hub connecting three continents: Asia, Europe, and Africa.
The investment strategy, in line with the National Ports and Logistic Development Program and Vision 2030 (covering container/general cargo ports, ro-ro operations, logistics, and bonded re-export zones), will serve as a medium-term solution for the development of the Port of Jubail and aims to enhance the following verticals.

SUPERIOR PRODUCTIVITY
With the additional cranage, GSCCO can now provide superior individual quay crane rate productivity and increased vessel operating rate (VOR), ensuring the shipping lines have less port stay time – which is dead time to the shipper.
"Productivity is often misconstrued to be limited just to the quayside. GSCCO's superior productivity can be seen in the yard and landside as well. No other terminal in the Kingdom has a faster yard turnaround time at nine minutes for the trucking/logistics provider. The implementation of an ICD inside the terminal allows exporters to manage their supply chain efficiently," adds French.
GSCCO is committed to investing more than $50 million in both land and quayside equipment. With the addition of 3 Super Post Panamax quay cranes, 5 rubber tyre gantries, and 18 reefer gantries, Jubail Commercial Port (JCP) is now up to a handling capacity of 1.8 million TEUs.
The recent dredging investment has allowed some of the largest mainline vessels to call at Jubail. The current draft of 15 m, with the tide, will enable JCP to handle vessels with a capacity of up to 16,000 TEUs.
As a result of these latest investments, GSCCO aspires to take the Port of Jubail to the next stage, supporting the 1 million TEU export market in the Eastern province and general cargo imports for the oil and gas industry.
French states: "With this investment in the terminal infrastructure, there is no reason why an exporter would want to transport his cargo by road to Dammam, load up and then the vessel returns to Jubail to collect the majority of export cargo.
"With four mainline services calling at Jubail and with its new equipment, why would you use Dammam for exports, increasing the Kingdom's carbon footprint, congesting the Jubail-Dammam Highway and the hinterland of Dammam municipality?"
French adds: "While Jubail has already recorded the highest individual quay crane productivity rate in the Kingdom, the additional three quay cranes will double the vessel operating rate (VOR) on mainline vessels, allowing for even faster turnaround, and saving shipping lines approximately 25 per cent in non-productive port time."

BOOST TO GDP
GSCCO estimates a significant money-multiplying effect on the Jubail economy by providing a seamless supply chain and efficient gateway for exporters and importers, resulting in savings of over $100 million.

INNOVATION
In March this year, GSCCO's parent company, Gulftainer, launched the grand finale of the year-long Global Innovation Challenge, which yielded four winning ideas set to transform the maritime sector globally. GSCCO has initiated a pilot with one of these ideas to upscale its innovation portfolio.
French adds: "Digitalisation drives everything we do as we advance. Our innovation programme incorporates technologies in artificial intelligence (AI), machine learning (ML), IoT and Blockchain that will deliver smarter operations and create intelligent solutions to benefit our customers."

SAUDISATION
In line with Saudi 2030 Vision, GSCCO is committed to providing opportunities to Saudi employees at all levels.
GSCCO operations have introduced Saudi nationals in all fields and at all levels (including quay and yard operations).

ENVIRONMENT
Guided by the Saudi Arabia National Efficiency Committee (NEC) and National Logistics Development Program (NLDP) directive, GSCCO is committed to implementing environmental initiatives, especially replacing long haul trucking with shorter, more efficient trips.
"Taking unnecessary trucking/inland container transport off the road and directing exports via the Port of Jubail will significantly reduce air pollution and the Eastern Province's carbon footprint. We are looking at reduced reliance on road transport and fully support Mawani's Sea Expressway vision. Most of the major exporters have already followed this model," adds French.

INTERMODAL CONNECTIVITY
GSCCO's additional equipment will provide a gateway for imports to the new International Maritime Industries Complex in Ras Al Khair. It will support major companies such as Aramco, Hyundai, and Bahri.
Additional investments from GSCCO will provide container handling equipment for the newly built Rail Head Terminal and support trunk connection between the Jubail Container Terminal and the Sadara Plant, which will be operational by 2021.
French emphasises: "Underlining our ongoing commitment to the regional market and Vision 2030, GSSCO is taking major steps to transform the region's ports and logistics sector."