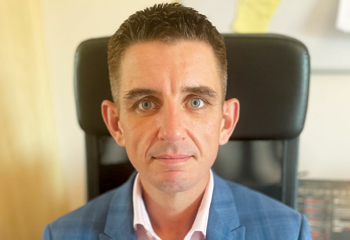 Smith ... net zero goals
Aggreko works with Aramco, SABIC and other independent operators and private industries in the Kingdom to deliver a number of services in the upstream, midstream and downstream sectors, Ross Smith, Country Manager for KSA, tells OGN

Aggreko is a major global provider of flexible power, cooling, and heating solutions. As oil and gas industry specialists, it understands the complex energy needs to operate effectively, no matter the location and complexity of the requirement.
'We'll work with you and use our deep market leading expertise and knowledge of your operation to help enhance your processes to develop the right choice of competitive zero capex solutions and services that delivers the energy you need,' Ross Smith, Country Manager for KSA, tells OGN in a wide-ranging interview.

What is the nature of your association with the Saudi industry?
We've been working in the oil and gas industry for over 50 years now and established our presence in Saudi Arabia in 1997. We work with Saudi Aramco, SABIC and other independent operators and private industries in the Kingdom, delivering a number of services across their project lifecycles. Our work in the upstream and midstream sectors in the Saudi market is focused on supporting operators with construction, installation, commissioning, turnarounds and maintenance power as well as specialist temperature control such as tailored drilling mud solutions.
Natural gas generators for refineries and petrochemicals
Meanwhile our downstream services include daily maintenance, business continuity, pure power solutions and specialist areas such as patented solutions to reduce turnaround times or deliver process yield enhancement that give you more with less. Whatever your need, we'll help your business perform efficiently and at its best.

What are your initiatives in decarbonisation?
We are at the forefront of the energy transition and the rapidly changing energy landscape. Together with our customers, employees and partners earlier this year, we committed to becoming a net zero business across all our services by 2050. Although our strategy is looking to a cleaner future, we took our first steps quite some time ago by:
• Turning waste gas into power.
• Adding battery storage and solar power into our fleet.
• Innovating to reduce emissions from our generators.
We will do much more between now and 2050: Our energy evolution will be boosted by shifting our global fleet toward greener liquid fuels and gas. And there are many paths to explore as we head toward our goal of net zero, such as the potential of e-fuels, hydrogen-ready engines and fuel cells.
Our experience and expertise give us the perfect foundation to reduce both our own environmental footprint and that of our customers. Whether its flare to power, flareless turnarounds or vapour recovery using refrigeration, our customers can trust our reliable cost-effective solutions.

What solutions can you provide for the petrochemicals and refining industry?
We possess a unique process engineering team, Aggreko Process Services (APS), which combines the talent of our senior process engineers with our specialist equipment to create engineered solutions that enhance productivity.
Clean cooling towers ... suitable for any project size
APS has been a dedicated team within Aggreko for over 20 years. It utilises its process engineering expertise to develop innovative and tightly engineered solutions to solve complex process cooling challenges. APS process engineers have the expertise and the equipment to identify and fix process bottlenecks, inefficiencies, failing or underperforming equipment, and, above all, the high ambient temperatures that cause production and productivity to plummet.
Just some examples of their capabilities include downstream solutions, such as dense air injection for fluid catalytic cracking (FCC) main air blowers, product rundown cooling, recycled gas compressor cooling, unit decoupling, and debottlenecking overhead condenser cooling issues for distillation columns.
When time is of the essence, we offer a fast and effective way to return to full productivity, without the need for capital investment to install new processes and equipment.

What's the most exciting downstream project you have on in the Kingdom to date?
In discussions with Aggreko on an Aramco JV refinery's pain points, the latter raised the issue of its propane-propylene (PP) splitter not achieving desired yields and being further restricted by seasonal temperatures.
Given the high market value of this feedstock and the fact that achieving optimum capacity within the PP splitter is also crucial to avoid flaring when capacity isn't reached, the customer posed the challenge to Aggreko to engineer a bespoke process solution to overcome it.
The customer was keen to move away from traditional methods such as the addition of a reboiler or utilisation low-pressure steam and water condensers; and with our process engineers understanding that technical changes with cooled water injection could affect yield outcome, we were confident it was a problem we could solve.
APS applied its deep technical expertise and understanding of the process to deliver a practical solution in just eight weeks for the customer. Our ability to influence the yield successfully increased delivery of the customer's high value product. With the capacity of the PP splitter increased, flaring was avoided. During the most critical hours of the day, propylene was on specification 100 per cent of the time.
The improvement recovery yield increased from 95.6 per cent to 99.8 per cent, meaning that recovery yield, specification and condensation capacity were all enhanced.
The solution is just one example of how we can help our downstream customers quickly way maximise revenue. The refinery has benefited from an additional $17 million of propylene using this process enhancement in 120 days.

You have a lot of experience in improving vacuum distillation unit (VDU) yields. Could you elaborate on your solution?
Vacuum distillation units (VDUs) are operated to maximise heavy vacuum gas oil (HVGO) yields. Any barrel of HVGO left in the residue is a profitability loss as VacResid trades at about half the price of HVGO.
The availability of cooling water (CW) at low temperatures will enhance vacuum and distillation yield of the column. Furthermore, minimising pressure drops across the VDU helps reduce pressure at the flash zone, maximising VDU performance.
In addition, lower operating pressure at the column bottom allows for a lower furnace outlet temperature (FOT), which maximises time between consecutive de-coking.
Specifically developed for VDUs, Aggreko's refrigeration solutions decrease the cooling water temperature used by the pre-condensers and ejector condensers, reducing the pressure required within the unit.

Could you please tell us about rapid catalyst cooling?
During a turnaround, refiners must cool the catalyst in hydrotreaters, hydrocrackers, and reformers.
We developed and own a patented process that focuses on the last phase of catalyst cooling and uses a combination of heat exchangers, chillers and pumps.
Based on a correlation model specific to an oil refiner's turnaround operations and timeline for cooling, APS demonstrated the process can cool reactor catalyst between 12-24 hours faster than liquid nitrogen, reducing turnaround schedule by 50 per cent.
For more information and recent case studies, visit: https://www.aggreko.com/en-mideast/sectors-and-services/petrochemical-and-refining/turnarounds/reactor-cooling.

What are your growth plans in Saudi Arabia?
We are aiming at double digit growth for our services in the Kingdom in the next few years. We plan to expand over the next five years capitalising on our proven track record in oil and gas, petrochemicals and refining with a focus on our specialist solutions.
We have offices with fleet in Dammam, Riyadh, Jeddah and Yanbu. We are investing in a centre of excellence, an energy fleet hub in Dammam to grow our footprint in the Kingdom.
With oil pricing stabilising at higher levels, we see growth in refining and petrochemical production.
This means more opportunities for us to support Aramco and SABIC with process enhancements, daily maintenance, business continuity, turnarounds and power projects.