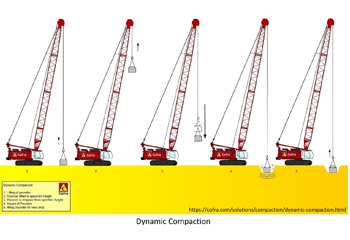 A common soil improvement method is dynamic compaction
Selecting a suitable soil improvement methodology for incremental projects, including expansion of existing live plant facilities, is critical as it must consider all safety aspects of continuous and reliable operations.
Vast areas - covered with thick layers of fills or with layers of soft clay deposits - are not suitable for the construction of foundations, based on the anticipated loading.
Accordingly, on similar site conditions, soil improvement is an important activity for any early site preparation work, as it provides alteration of any property of a soil to improve its geotechnical performance, such as bearing capacity, reduced compressibility, reduced permeability, and improved ground water conditions.
Thus, soil improvement was performed for Marjan Onshore Oil Facilities (MOOF) - as per the recommendation of the geotechnical laboratory -in various areas, to overcome specific site conditions associated with soft clay deposits.

SOIL IMPROVEMENT IN EXISTING FACILITIES
Soil improvement techniques have been evolving over the past decade to address construction challenges at all project sites.
The improvements have been reflected in better project execution, in terms of cost and schedule.
Some of the common soil improvement methods used include: stone column, dynamic compaction, rapid impact compaction, and other vibration methods.
Besides the geotechnical investigation study recommendation, there are two other important factors to be considered when deciding on the best suitable soil improvement technique for a brownfield project.
These are proximity from critical assets, and impact on the existing plant equipment and structure, due to the vibration generated during soil improvement.
Plant operators are very apprehensive in selecting soil improvement techniques that involve vibrations, due to any adverse impact on the existing facility, and the risk of any loss of production and resulting financial liability.
Badr Burshaid, Manager of Marjan and Zuluf Increment Projects Department, said that these techniques were addressed during the early phase of project execution, and optimised engineering techniques were adopted without jeopardising the safety and integrity of existing facilities.
For the MOOF brownfield project, the team worked to identify the best suitable soil improvement method as per actual soil condition, considering as well the proximity of the existing facilities.
Accordingly, three different soil improvement methods were applied, including dynamic compaction, dynamic replacement, and stone column.
Vibration methods of dynamic compaction and dynamic replacement were applied to improve soil conditions in areas away from the existing facility. These methods involve shock waves in loose deposits.
These waves cause liquefaction followed by densification, accompanied by the dissipation of excess pore water pressures.
Vibration methods were considered after the conducted trial tests revealed that the risk associated with vibration was relatively low, as the maximum recorded velocity was found to be within the allowable limit.
The stone column soil improvement method was deployed in all areas in close proximity to an existing facility. The stone column is basically one of the soil improvement methods, where the columns consist of compacted gravel or crushed stone, are arranged by a vibrator and are then injected to strengthen the soil formation.
An additional benefit of the stone column method in a brownfield project is that it can be arranged in a grid pattern, taking into consideration the existing underground utility encountered in the increment.

CONCLUSION
Selecting soil improvement techniques for brownfield sites is important due to constraints associated with operational plants, such as proximity of existing facilities, presence of underground facilities, and types of equipment to be used. Hence, in collaboration with engineering services, operations and an expert contractor, several constructability workshops were conducted, and lessons learned - from previous experience of similar types of project execution - were shared. As a result, the project successfully achieved safe execution of all related site preparation activities, in accordance with the industry's best practices and the applicable engineering standards.