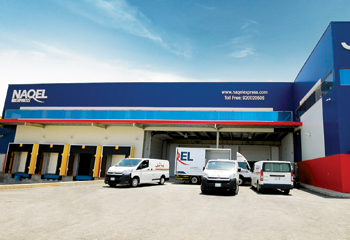 A Naqel facility ... the company is now an AEO in the Kingdom
The AEO accreditation helps companies simplify their customs procedures, create greater predictability for business activities at the border, and facilitate the movement of their goods at a lower cost

Naqel Express, a leading express logistics and supply chain company in Saudi Arabia with the largest seamless network, has been nominated as an authorised economic operator (AEO) in the Kingdom of Saudi Arabia.
As an AEO, Naqel will be able to facilitate smoother and faster processing of both exports and imports at all its seaports and land port facilities.
"The AEO program is a partnership concept between the Saudi Customs and businesses to strengthen the international supply chain security and provide more trade facilitation benefits. It has become the global standard since the adoption of the Standards to Secure and Facilitate Global Trade (SAFE Framework) by the World Customs Organization in 2005. It is also a component of the Trade Facilitation Agreement (TFA) which came into force on in February 2017," says Ammar Al Harbi, Director of Gateway Operations, Naqel Express.
Naqel's GACAR 151 licence awarded by GACA
To become an AEO, companies must fulfil certain criteria, which include compliance with the Customs' requirements and lack of criminal offences relating to their customs and economic activities in the last three years; a proper electronic record keeping system; financial solvency of the parent company and its subsidiaries; appointment of personnel with extensive knowledge of customs related matters; have a policy for training and awareness of company personnel; and possess satisfactory procedures for verifying the accuracy of Customs declarations and con¬fidentiality.
In addition, companies must demonstrate safety measures in regards to containers, transport, company premises, warehouses and facilities, and employees. They need to ensure adherence of business partners to security standards, and have an ef¬ficient system of crisis management and incident recovery. Finally, they should be able to track key performance indicators to improve the general performance, reduce risks, and enhance security.
Companies that are validated according to the AEO program are classi¬fied as low-risk business partners and can, therefore, be trusted by the Customs.
These companies will receive signi¬ficant benefi¬ts that will simplify their customs procedures, create greater predictability for business activities at the border, and facilitate the movement of their goods at a lower cost.
Naqel facility at the King Abdulaziz International Airport in Jeddah
AEOs have a procedural advantage over those not accredited by the programme including dedicated fast tracking in Customs outlets; a priority in all Customs programmes and benefi-ting from similar programmes offered in other countries through mutual recognition; prior clearance of the consignment; reducing the amount of manual examination and analysis of samples, and facility to carry out manual examination and Customs in areas outside the port.
Furthermore, every company will be assigned a special account manager to overcome obstacles related to Customs procedures, and will have the facility to roll over fees due on bank guarantees.

AIRPORT GROUND HANDLING LICENSE
Naqel has been awarded an operating licence for ground handling service providers (GACAR 151) for freight and mail handling at the Riyadh Airport.
The General Authority of Civil Aviation (GACA) certified Naqel after it completed all technical and operational standards and achieving a high level of compliance in accordance with the global rules and regulations of aviation security and safety.
With this certification, Naqel joins Saudia Cargo and SATS (Singapore Air Terminal Services) as GACAR 151 certified operators in the Kingdom. This certification renders Naqel a clear competitive edge in smooth and faster handling and processing of air freight shipments imported into Saudi Arabia. Naqel has invested over SR300 million ($80 million) in the expansion of its operations facilities at the three key airports of Jeddah (KAIA), Riyadh (KKIA) and Dammam (KFIA).
"We are leveraging our state-of-the-art gateway facilities and ground handling capabilities in offering fast clearance and smooth handling and delivery of shipments to our final customers in the Kingdom," says Al Harbi.