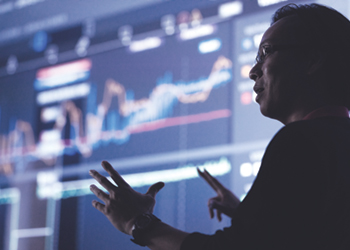 Accomplishing true IT/OT integration requires a holistic approach
The convergence of software and machinery in production environments is ushering in a new era of connected operations for the oil and gas sector, offering enhanced levels of efficiency and an opportunity for better decision-making across all aspects of production, Simon McEntee, Regional Sales Director – EMEA at Sensia, tells OGN
The concept of IT/OT convergence has long appealed to executives in the sector. Connecting the process control, measurement and safety systems at production sites with IT infrastructure and applications enables remote connectivity for highly valuable real-time data and remote support.
Yet, in practical terms, this goal has been hard to achieve due to the rugged, dislocated and often remote nature of oil and gas operations.
Now, as the sector navigates short-term volatility and longer-term structural changes, integrating IT and OT has been elevated to a critical consideration for decision makers in seeking to maximise the value of their production operations.

CREATING AN INTEGRATED PRODUCTION ENVIRONMENT
True IT/OT convergence is multi-dimensional. In a typical production environment, there are multiple types of systems that can be integrated.
On the operating side, there are the control and safety systems, measurement and other infrastructure, while on the business side there are standard applications such as visualisation software and back allocation reporting.
There's also a need for convergence within these realms, ensuring joined up data, communication and workflows across systems.
By integrating IT and OT, oil and gas companies can gain deep and clear insights into what's really going on at production sites and make decisions to optimise the efficiency of operations and improve safety protocols.
For example, an operator may want to analyse the data relating to a particular piece of machinery or measurement system and anticipate forward resource requirements.
He can do this by feeding the time-series data into AI and analytics software and using it for real-time optimisation of the assets.
That data can then be exchanged between operatives working in different teams or areas of the business as workflows to serve a variety of purposes and outcomes.

STEPS TOWARDS IT/OT CONVERGENCE
Fundamentally, oil and gas executives want to achieve two broad goals. On one hand, they want to improve time to value, cutting through the inefficiencies that slow down operations and produce inertia.
On the other, they want to minimise risks so that outcomes can be achieved in a safe, secure and compliant way.
Closed or disparate systems lead to friction and disconnect, which slows operations and reduces the quality of decision making.
The integration of systems, on the other hand, means you can get to the outcome far quicker and with far greater reliability.
There are five key steps that oil and gas executives can use to enable the integration process and ensure information can flow freely across IT and OT systems:
• Identify and align critical data sets: One distinctive feature of a typical oil and gas production environment is that there are multiple systems working in tandem at different parts of the process.
These may have been provided by a range of different OEMs and software vendors, each operating on different protocols and generating data in different formats.
If you lack a consistent set of standards for integrating these different sources, then you end up with data in siloes which are disconnected and cannot communicate with one another. This inevitably leads to fragmented operations and less efficient processes.
Start by identifying the different forms of data available and develop 'data-centric' strategies – for example, how can data from upstream and midstream operations be collected, cleaned and utilised across multiple purposes or workflows?
Then consider what barriers currently exist in getting greater utility from the different data sets, such as bottlenecks in the sharing of workflows between relevant parties.
Remedying these frictions at a systems level helps us to find alignment between the different applications.
• Consider the entire supply value chain: Think closely about how data from one part of operations could be used to support better outcomes at different stages of the production cycle.
This could involve better integration of onshore and offshore assets. For example, if operators at an onshore data centre could gain insight into what's happening at the reservoir, they are then able to change settings and make decisions on things like back allocations.
It also enables better control across the entire supply chain.
By integrating data at the upstream and midstream levels, you might also find benefits downstream – such as being able to predict and calculate how much oil you're sending to the refinery in each tank and the costs associated.
These could be small improvements on the face of it, but at scale and over time they could lead to massive quality and revenue improvements.
• Fill the security gap: IT/OT convergence has attracted attention recently due to the prevalence of industrial cyberattacks, such as the recent ransomware attack on a US pipelines.
Many of these recent attacks are caused by online attackers exploiting weaknesses in more complex ecosystems and compounded by poor IT/OT integration and security.
According to Deloitte, 90 per cent of OT sector companies have reported, at least, one security compromise to their infrastructure in the previous two years resulting in the loss of confidential information or disruption to operations.
These incidents highlight the potential vulnerabilities that can arise from the convergence of IT/OT. Being able to carry out the proper assessments to spot potential issues early and put the right protections in place is crucial.
• Set up for third party integration: When designing your IT/OT environment, it's important to think not only of how your different applications can integrate, but also how the use of open protocols can enable third party applications.
Over any set of projects, you may need to collaborate with several partners, suppliers and service providers.
This can be challenging if the systems and applications they're using are not seamlessly integrated with your systems by design.
Third-party integration supports better workflows and helps from a security perspective.
According to the Ponemon Institute, 59 per cent of companies have experienced a data breach caused by one of their vendors or third parties, showing the critical need for a coordinated approach.
• Enable edge capabilities: To gain the benefits of real-time data analysis and fast decision-making, it's important to optimise network infrastructure and applications to enable edge capabilities.
The data is collected, cleaned and processed close to the source for more immediate insight.
Then, if required, only the more useful data would be sent back to centralised operations.
Edge can support greater IT/OT convergence by offering benefits such as ultra-low latency in computing and communications, greater communications between machines and sensors (which may have previously been limited by poor networking), along with greater resilience/high-availability for mission-critical edge environments.
For a routine task like flare gas monitoring, the applications can be run on edge servers meaning operators at production sites can access the metrics they need and make quicker decisions on any necessary actions.

SENSIA DRIVES TRUE INTEGRATION AND FASTER TIME TO VALUE
Accomplishing true IT/OT integration requires a holistic approach. Oil and gas companies can work with Sensia to enable complete integration across the value chain.
Sensia is a digitally enabled company offering an integrated IT/OT approach from point of measurement to control to asset optimisation, which means it offers true integration of assets to help customers operate more productively and more profitably.
Analogies can be drawn from the automation world in terms of the safety and control systems being combined into a single ICSS platform.
In this respect, Sensia brings together the next level of integration between IT/OT in the sector.
Sensia is a standalone entity created by Rockwell Automation and Schlumberger to provide deep oil and gas domain knowledge and expert services that oil and gas companies need to maximise the value of production.
Sensia's capabilities combine Rockwell Automation's expertise in process automation, control data handling, and decision making and closed loop control, and Schlumberger's unparalleled petro-technical capabilities.
It offers an integrated set of products, which provide a complete workflow from OT to IT from the field at the point of measurement, all the way through to the point of optimisation.
By using open systems and protocols, our solutions allow information to flow across IT and OT environments with complete integration of third-party systems, making integration something that's built from the ground up so that all systems work together seamlessly.