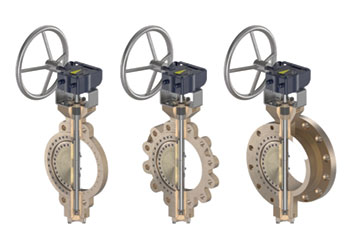 Shipham Valves Triple-Offset Butterfly Valve Range
Shipham Valves expand its range of high-performance butterfly valves, with the launch of a new innovative range of triple-offset butterfly valves.
Several design features are incorporated into this range to reflect the wide range of applications they support, delivering a high-performance, robust and effective through-life isolation valve solution.
As well as providing weight and space-saving benefits, the anti-rotational laminated seat design ensures no movement in service to maintain consistent sealing performance, when compared to a clamped design.
This product range supports multiple oil amf gas industry sub-sector infrastructures, such as onshore and offshore infrastructure (covering upstream, midstream and downstream applications), liquefied natural gas as well as floating production storage and offloading platforms.
Providing valve solution to underpin various critical oil and gas applications ranging from critical isolation, cooling water systems, and seawater injection. As well as LNG tank flow control and storage and LNG fire main bypass applications.
Shipham Valves' Triple-Offset design delivers fast opening and closing quarter turn operations and employs a uniform profile around the conical sealing face to ensure effective sealing is achieved.
Three different body types available including BU04 – Wafer-Type, BU05 – Lug-Type, and BU06 – Double-Flanged.
Shipham Valves' Triple-Offset Butterfly Valves are available in different sizes and pressure classes, depending on specific needs and are ideal for applications with high temperature, severe service and critical isolation requirements.

BENEFITS
• High performance - across a diverse range of applications.
• Valve service longevity - triple-offset design removing seat wear.
• Laminated metal seat arrangements provide zero-leakage bi-directional sealing.
• Peace of mind - multiple anti-blowout devices integrated into the product to ensure stem retention under all possible failure conditions.
• Zero leakage sealing performance - in accordance with API 598.
• Certified Firesafe design.
• Compact design – when compared to other metal seated isolation valves.
• Standard mounting interfaces enable easy actuation.
Nick Gray, Head of Engineering and Quality of Shipham Valves, said: "We are pleased to announce the launch of our brand-new range of Triple-Offset Butterfly Valves. This new range has undergone a comprehensive product design, development verification and validation process to deliver a high-performing, effective and robust triple-offset butterfly valve solution meeting all the requirements of an API 609 Cat. B product.
Gray added,"For total reassurance, our triple-offset range design is fire-safe certified in accordance with API 607, which provides fire test criteria for quarter-turn valves with non-metallic seating, when the valves are exposed to certain fire conditions and pressure".

SIZES AND SPECIALIST MATERIALS OF CONSTRUCTION
This range can be manufactured in sizes from 3" - 24" in a wide range of specialist materials, including 6Mo, Bronze, Duplex, Hastelloy® B, Hastelloy® C, Inconel® 625, Inconel® 825, Monel®, Nickel Aluminium Bronze, Super Duplex, Titanium, with the option of manufacturing additional sizes.