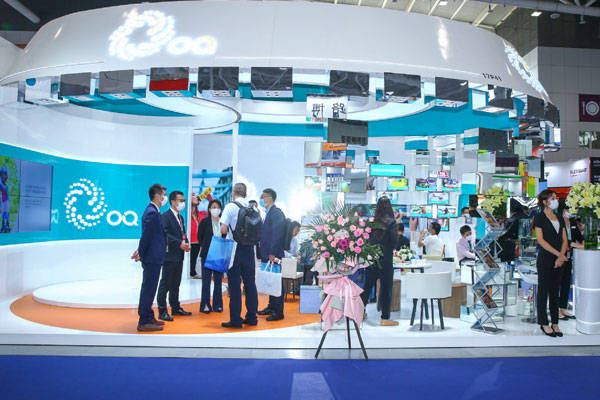 An OQ stand at an expo
OQ, the multifaceted Oman-based energy company that specialises in polymers for flexible and rigid packaging solutions, has grown its client base tenfold from 300 to 3,000 since 2020.
The volume of products shipped had jumped from 900 containers per month to >4,000 – all during a well-documented shipping crisis.
"It has been a very strange few years but despite the obstacles placed in front of us we have flourished," commented Gilles Rochas, Managing Director of OQ Polymer Marketing.
Change-positive
"Our change-positive culture and innovative approach to development have seen us grow enormously, meeting market demands in challenging global conditions. We see opportunity in change and are fueled by the fast-paced decisions that create a positive impact during times of adversity."
Since March 2022, OQ's polymer plants have delivered more than 100 kilotonnes of polyolefin per month, a new capacity record. This breakthrough growth in total output is a tribute to our dedicated operations team. With accessible sales and logistical networks in the East and West corners, OQ's increased production will continue to ramp up to meet the anticipated demands of the various markets that it supports across the globe.
Global footprint with Omani heritage
Due to the rapid growth in activities flowing through the Omani hubs, expansion outside of OQ's home country has been necessary to support the company's global network.
Indeed, outside of Oman, the company continues to broaden its horizons. Over the last 3 years, OQ has stationed hubs in Malaysia and the Belgian port city of Antwerp, making it better placed than ever to serve an expanding global customer base.
Today, OQ operates out of 17 countries and covers more than 70 nations with its range of Luban PP, HDPE and LLDPE products, manufactured on its Sohar based production plants.
Regional presence
These international operations are backed by our growing regional sales presence supported by OQ's sales activities in Oman, India, Turkey, China, Spain, and Singapore. Crucially, all these locations are managed by dedicated professionals familiar with the local business environment.
OQ's people have been central to OQ's ongoing developments. In light of the company's rapid expansion, its structure has shifted to mimic this progress and diversification. As a result, the company's employee base continues to strengthen and diversify, proudly representing more than 50 nationalities that come together to innovate and build solutions to challenges.
"We are a multinational team underpinned by the shared Omani courage," added Ali Al Lawati, Vice President Global Sales. "We recognise that as employees, we want to see our ambitions come to fruition, not only for Oman, but for a global collective. For us, this is a matter of pride and ethics. We want to create and steer positive change for the future."
Key pillar
A key pillar of OQ's talent continues to be the development of young, enthusiastic, and skilled graduates in Oman and across the globe. The company routinely hires graduates seeking a career in its multiple areas of expertise, pairing their innovative and entrepreneurial mindsets with the guidance of experienced industry veterans already in the business.
OQ already has multiple partnerships in the works with further developments to be announced as 2022 progresses. With multiple challenges affecting the worlds markets, OQ continues to thrive in the face of adversity.-- TradeArabia News Service