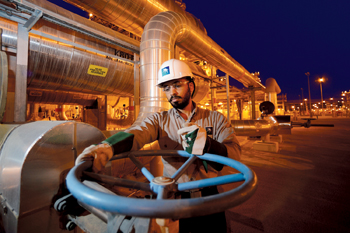 Aramco ... investing in new ventures
The world's biggest energy company Saudi Aramco outlined financing plans that will support its expansion into new areas under a sweeping economic reform plan released by Riyadh this week.
The reforms envisage Aramco transforming itself from an oil and gas firm into a "global industrial conglomerate" involved in many sectors and services, using its vast financial resources to create jobs and help diversify the Saudi economy beyond oil.
The plans suggest Saudi Arabia's state oil company, which Deputy Crown Prince Mohammed bin Salman estimated this week was worth over $2 trillion, aims to move rapidly into its new role.
"We will continue to build on our accelerated transformation and serve as a pillar, role model and champion of transformation in the kingdom," Aramco's official magazine, Arabian Sun, quoted chief executive Amin Nasser as saying. Aramco's board, which met in Tokyo last week, decided to provide interim financing for a planned shipyard at the town of Ras Al-Khair on Saudi Arabia's east coast, the magazine said without giving details.
In January, Aramco signed a memorandum of understanding to establish the shipbuilding and repair complex with National Shipping Co of Saudi Arabia (Bahri), a subsidiary of Lamprell, a UAE-based engineering firm, and South Korea's Hyundai Heavy Industries.
The company did not reveal the size of the project, but an oil industry source aware of the scheme said it was expected to cost several billion dollars.
Aramco's board also decided to set up joint ventures for onshore and offshore drilling rig services, the magazine said without giving details of those ventures.
Traditionally, Aramco has relied heavily on outside contractors to provide it with such services, but it now wants to control more of those businesses to create jobs for Saudis, stimulate local demand and control costs.
The board approved an additional equity contribution for its Sadara petrochemical joint venture with US firm Dow Chemical, Arabian Sun said, without disclosing the size of the capital injection.