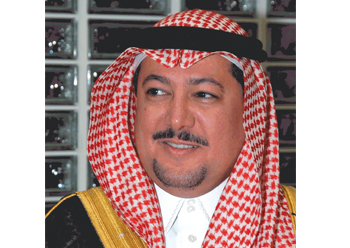 Al Qahtani ... business has been buoyant
Despite the market slump caused by falling oil prices, the firm, part of the AHQ group of companies, has experienced significant growth and has added manpower to cope with the workload, with strong emphasis on Saudisation and commitment to IKTVA
Dammam-based Al Qahtani Pipe Coating Industries (AQPCI), a leading specialist in providing anti-corrosion coating solutions to the oil, gas, power and water sector, plans to widen its pipe coating market by expanding to other continents.
This will be easily possible as AQPCI has within the group three pipe manufacturing units capable of making a variety of pipes, says Tariq A H Al Qahtani, Chairman of the Board of AQPCI.
Besides, AQPCI, which currently operates from two locations within Dammam and one in Yanbu, plans to set up another larger operational facility in the next two years.
In spite of the market slump caused by falling oil prices, the company, part of the AHQ group of companies, which has a client base including all major National Oil Companies and their main contractors both locally and globally such as Saudi Aramco, Sabic, KJO, Royal Commission, Sadara, Satorp, SWCC, NWC, MOA, Adnoc, Adco, Adwea, Dewa, PDO, OOC, KOC, KNPC, Bapco, QP, Qatargas, Qapco, ONGC and Sonatrach, has experienced significant growth and has added additional manpower to cope with the workload, with strong emphasis on Saudisation and commitment to IKTVA, he says.
"Despite the downturn in the oil and gas industry globally, business in our sector has been very buoyant thanks to the leadership and vision of the kingdom," says Al Qahtani adding that the company is executing a number of high-profile projects within the Kingdom.
"One of our major ongoing contracts is Saudi Aramco's Hasbah 2 offshore pipeline, which involves coating over 500 kms of various diameter pipes from 8 inches to 36 inches diameter. The scope of the work involves internal fusion bonded epoxy (FBE), external FBE, double jointing, shop girth weld coating and concrete weight coating. We have been working on this order since February 2017 and will be completing the job by April 2018," he says. The major challenge in executing the project was the logistics of managing thousands of pipes from processing to loadout. This was accomplished through a state-of-the-art tracking system set up by AQPCI ERP, he explains.
Other major orders being executed by the company include the Master Gas pipeline, Yanbu-Jeddah pipeline, South Dhahran water pipeline, Qatif reroute pipeline and a major quantity of casings for Saudi Aramco's drilling.
Recently, on the Arabiyah-Hasbah pipeline for Saudi Aramco, AQPCI was the first company globally to successful apply concrete weight coating on 24 m long pipe joints.
AQPCI also executed a major water pipeline for BHP Billiton/Bechtel for Escondida, Chile. The pipes were 36 inches in diameter and approximately 367 km long. AQPCI's had to internally coat FBE for the potable water service and then coat 3 layers of polyethylene externally before transporting and loading the pipes onto huge cargo vessels to move the pipes from Saudi Arabia to Chile. The project was completed in early 2017.
Recently, the company carried out a major project for SOC Iraq where it performed external 3-layer and concrete weight coating on 48-inch diameter pipes approximately 120 km long. The coated pipes were moved directly from Dammam port to the offshore location in Iraq, he says.
Currently, AQPCI offers various types of coating application services for pipes, flanges, fittings, valves, fabricated spools, structures, heat exchanger units and pressure vessels. Coatings such as FBE, 3-layer polyethylene, 3-layer polyproplene, concrete weight coating, cement lining and all types of paint systems are applied internally and/or externally to pipes.
"Besides that we are introducing new variants to the existing FBE powder coating through research and development jointly with Saudi Aramco," says Al Qahtani.
AQPCI is currently operating with a team of 1,800 people working in an area of about 2.2m sq m.
The company was established in the 1950s and currently has two operational facilities in Dammam and one on the west coast in Yanbu. It has agents/direct representations in Mena as well as other countries in Asia, Africa, US and Europe.
"Anti-corrosion coating remains the company's speciality over the last 60 years. With strong emphasis on product quality we continue to retain the trust and confidence of our customers globally," he adds.