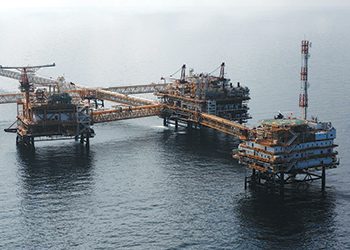 Offshore oil and gas industry is upbeat on bouncing back
The offshore oil and gas industry is adapting well to the challenges thrown up by Covid-19 by accelerating its adoption of digital technologies, including remote inspections and AI-driven operations.
This was the finding of The Maritime Standard Webinar titled 'Covid-19: A Leadership Perspective'. The webinar highlighted how the industry has and has successfully integrated working from home practices, despite the inevitable challenges this has posed in this particular sector. Overall, the seven panelists, representing a broad cross-section of the offshore oil and gas sector, and with many decades of experience between them, were optimistic about prospects, despite the market slowdown and resulting capital project delays and postponements.
Paul Shrieve, President, BV Solutions, Offshore and Marine, said there are short term challenges for this sector, but there are still plenty of opportunities as well. P Sankaranarayanan, Senior Vice-President, Projects and AMC of Petrofac pointed to the benefits of digitalisation, such as the use of digital twins for offshore structures and the growing benefits of remote surveying.
Vivek Seth, Senior Vice-President, Marine Services, Adnoc L&S, highlighted the important gains his company had seen in terms of seafarer safety and wellbeing from using AI as part of a wider digital transformation of the business.
The human element was also underlined by Commander Sunil Dhulekar, CEO of Arya Offshore. He suggested: "The focus on the mental health of seafarers has been a positive, as has the greater trust in people, as remote working is now universally accepted. We have also seen a change in people's mindset for the better. Overall, I see optimism, nothing but optimism, for the future."
Similarly, upbeat was Rajiv Agarwal, CEO and Managing Director of Essar Ports, who reported that activity at the group's terminals was now back to almost 100 per cent of pre-Covid levels. He said:
June Manoharan, Director, Lukoil Marine Lubricants detected a steady improvement in market fundamentals. She said: "Operationally there was initial disruption, but thanks to our partners, suppliers and understanding customers we have been able to get back on track quickly."
TMS Editor, Clive Woodbridge, said: "This was an overdue chance to get the perspective of leading figures in the offshore oil and gas business, from field construction and development, through to rig maintenance and repairs, offshore vessel, terminal and tanker operations, and support services. There was a very upbeat tone to the discussion and an acceptance that while things will be hard for the short term, some of the changes made to adapt to the 'new normal' will hold the sector in good stead for years to come."