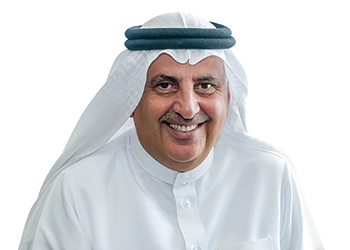 Al-Sadoun ... seeing the business potential of recycling in GCC
GCC governments must focus on enhanced waste management through standards and regulatory framework in order to create a favourable environment for plastic recycling in the region, Dr Abdulwahab Al-Sadoun, Secretary General, GPCA, tells OGN
The Covid-19 pandemic has demonstrated like no other the benefits of plastics. Essential products made of polymers have played and continue to play a key role in helping to combat the pandemic, protecting medical staff, and mitigating the spread of the virus. However, the abundant use of this valuable material has brought into focus another important conversation about plastic waste and effective waste management.
As a major producer, consumer and exporter of polymers, the Arabian Gulf region has tremendous potential to leverage plastic recycling and adopt circular economy as a solution to plastic waste.
By investing in recycling, the region can further help contribute to innovation and the global sustainability agenda, create new job opportunities, and develop more sustainable and lasting plastic waste solutions, while supporting the drive to diversify GCC economies. However, this will not be attainable without a comprehensive waste management strategy involving high standards of segregation at source.
Improving the economics and quality of plastics recycling is becoming a growing imperative in the region. A focus on source segregation, streamlining plastic waste material recovery, improving plastic reuse, and building dedicated plastic recyclate facilities are key components to developing an effective waste management strategy in the region.
Source segregation is currently under-addressed and can only be taken to true potential through government intervention (for example, mandates). Regional jurisdictions can initiate this with the larger sources of waste, such as hotels, large corporates, and educational institutions to achieve critical success quantum in the short term. Targeting residential complexes should be a longer-term agenda considering feasibility.

INCENTIVE-BASED SYSTEM
Adopting reusability can have the single biggest impact on waste reduction
but it is also the most difficult to achieve
Improving waste segregation at source at residential areas may require an incentive-based or a charge-based system. A penalty such as fines or non-collection of waste for non-conformance can also be implemented. Furthermore, increasing the number of collection centres in countries across the region will amplify the positive impact on segregation at source.
One of the challenges in the region's plastic recycling value chain is the lack of incentives for converters to use recycled plastics. Typically, the price difference between recycled plastic granules and virgin plastic granules are significant. In order to ensure interests of plastic converters, governments in the region may need to take steps to incentivize plastic converters using recycled resin. This may be in the form of additional tax on virgin resin or tax cuts for products manufactured from recycled plastic content.

CHEMICAL RECYCLING
Chemical recycling is another promising solution to addressing plastic waste. Despite being in early development stages, it is garnering significant interest from technology developers and global chemical industry leaders as a promising path to move towards circularity and away from the current linear approach (take–make–dispose). Thanks to its ability to transform the molecular structure of a plastic waste stream, chemical recycling provides an opportunity to recover plastic waste and bring it back into the loop at virgin-like quality.
This was the focus of a recent GPCA virtual masterclass, which explored the opportunity for chemical recycling in the GCC region. Speakers at the event highlighted the role of collaboration across technology development, plastic collection, sorting, and plastic recycling, working closely with government, local municipality, and all value chain partners to make plastic recycling viable and cost effective. The industry needs to move towards circularity, focusing on innovation in product and supply chain design, and building plastics with recovery, reuse, and recycling in mind.
However, despite the significant brand owner and regulatory drive towards recycling and recycled content, key issues around the collection and quality of the material as well as processing capability still exist.

IMPACT OF LEGISLATION ON PLASTIC DEMAND
The ongoing drive towards reducing the use of plastic, particularly single-use plastic, and increasing recycled content in finished products due to changing government legislation worldwide has the potential to affect virgin polymer demand. Virgin plastic demand growth is likely to be eroded by increased use of recycled grades in existing applications. However, innovation in the industry to create new recycled plastics, such as new colours or food-grade polyolefin recyclates, could substantially increase demand. While changing legislation might impact the composition of plastic products, demand for single-use plastics with certain unique qualities and applications will remain strong.

BUILDING A ROBUST RECYCLING SYSTEM
In order to create a favourable environment for plastic recycling in the region, federal and local governments must focus on enhanced waste management through source segregation, material recovery and favorable standards and regulatory framework. Increased source segregation can greatly improve not only the recovery of valuable materials but also their quality. Furthermore, regulators can partner with industry and civil society to spread awareness on the benefits of source segregation.
Investing in Material Recovery Facilities (MRFs) can enhance the availability of recyclable material. This would have to be coupled with incentives for consumers and businesses to improve recycling rates. We would need regulators to develop recyclate standards jointly with industry as well as regulate the market for recyclates to ensure their availability, price checks and quality control.
Looking to Europe as one of the fastest moving markets for plastic waste legislation, the European Commission has introduced a waste hierarchy which seeks to improve recycling and sorting infrastructure, reduce waste generation, improve eco design, make all plastic packaging reusable or recyclable and increase the speed of decarbonisation.
Some of the factors and demand conditions responsible for high recycling rates in other countries include, governments taking the lead in facilitating investment and regulating the market for recycled material; and the establishment of separate collection of key dry recyclables; rigid regulations and standards – from landfill ban on specific materials, to standards for collection of different waste-streams to maintain the waste quality for recycling. The introduction of mandates such as statutory recycling targets and introducing variable rates instead of a flat fee charged to waste generators also help recycling make more business sense.
Adopting reusability can have the single biggest impact on waste reduction but is also the most difficult to achieve. Prolonging the life of products will require incentives for society to move away from a 'use and throw' culture and will need significant investments in product design and business model innovation. Finally, companies that invest in improving resource efficiency must also be rewarded.
Established in 2006, the Gulf Petrochemicals and Chemicals Association (GPCA) represents the downstream hydrocarbon industry in the GCC. It has more than 250 member companies from the chemical and allied industries, accounting for over 95 per cent of chemical output in the Gulf region. The industry makes up the second largest manufacturing sector in the region, producing over $108 billion worth of products a year.
The GPCA manages six working committees: Plastics, Supply Chain, Fertilisers, International Trade, Research and Innovation, and Responsible Care. It also organises six world-class events each year.