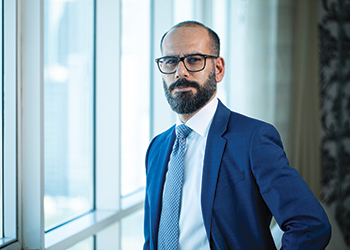 Lahoud ... keeping Petrofac competitive
The leading international service provider to the energy industry realises that the adoption of simple connected applications and wearable tech could engage and empower its teams to work faster, be more agile and efficient
Elie Lahoud, Group Managing Director, Engineering & Construction (E&C) shares his insights on Petrofac's journey, and some of its major current projects in the region.
With a background as a design engineer and significant project experience, Lahoud joined the company in 1997. He is responsible for E&C operations in countries including Iraq, Oman, Russia, Saudi Arabia and CIS countries, as well as Petrofac's offshore E&C business. Lahoud is also executive sponsor for the E&C digital transformation initiative aimed at maintaining and growing Petrofac's competitiveness, and the 'Delivery Assured' programme aimed at bringing more predictability in project delivery, through several operational excellence initiatives.

As a leading service provider to the oil and gas industry, what are the highlights of Petrofac's impressive journey over the years and what services do you offer?
Lahoud on a site visit
2021 will mark 40 years in business for Petrofac, so we have certainly come a long way. We started with just 25 people on board. Today we are a global business with over 10,000 people and a constituent of the FTSE 250 Index. Over the years, we have always remained focused on our clients, operational excellence and supporting the market's changing needs. Our diverse client portfolio includes many of the world's leading integrated, independent, and national oil and gas names, and increasingly renewable energy companies. The journey has seen us take on bigger and more complex projects, so Petrofac has built a significant track record through a focus on local delivery and a collaborative approach.
We have been able to expand the services we provide globally. We design and build plants, provide the know-how to start-up, maintain and manage our clients' assets, as well as integrate specialist capabilities, such as training solutions. This offering covers each stage of the project lifecycle and a variety of commercial models, so we can provide our clients the flexibility they need.

Which major projects have you been working on in the region that you are particularly proud of?
We are proud of all the work that we do. Each project brings its own unique challenges. Despite wider circumstances associated with the current Covid-19 pandemic, key milestones continue to be achieved by the teams on our major projects, taking the steps to keep people safe and operations on track.
Petrofac has played a key role in Khazzan and its current Phase 2 project - Ghazeer for BP in Oman. These are important and pioneering projects, and the production of gas from the concession will support the Sultanate's energy needs more effectively for many decades to come. Most recently we have been responsible for the addition of a third gas train, which will help drive increased total production capacity. Ghazeer is getting ready for start-up, enabling BP to prepare for the introduction of first gas.
In the south of Oman, work continues to progress well towards its final stages at the Salalah LPG extraction project for OQ. At its peak there were nearly 5,000 people on site and the team has clocked in over 14 million safe man-hours without lost time injury (LTI).
Not long before the world went into lockdown, I spent some time at another of our major projects located on Sakhalin island in the east of Russia. The onshore processing facility is our tenth project in the country and although remote, it is a familiar location for Petrofac as we have had a technical training centre there since 2006.

With Ghazeer now wrapping up, what has been delivered that you would like to see in future energy developments?
As well as an excellent health and safety record, reaching 19 million safe man-hours worked on site without LTI, there was a real emphasis on the welfare of everyone involved. Oman has a progressive attitude to human rights, and it was a perfect opportunity for Petrofac to work collaboratively with the client, suppliers, and the wider contractor community to underpin and drive workers' welfare. We also supported a BP-commissioned survey of more than 1,200 of the workforce to get a better and more qualified picture of their experience.
Worker rights and welfare should be high on the agenda of every development. We are seeing an increasing number of bids with questions and assessments to address this. Apart from being the right thing to do, there is a strong commercial case for such high standards. When people are content and engaged, they tend to work more safely and productively, as was the case here.

What about ICV commitments?
The support of the local economy and commitment to nationalisation has been key in delivering all our projects, in the region and beyond. As an example, we have around 1,000 staff employed directly in Oman, 30 per cent of which are nationals, and have been successful in exceeding targets at the project level. Wherever Petrofac operates, we are committed to developing local capabilities, employing nationals, training the workforce of tomorrow, developing client and subcontractor skills, and investing in supply chain.

Have your solutions been delivered to the client's satisfaction?
Our focus is always on client satisfaction. The achievements on Ghazeer were recently highlighted and it is always pleasing to get such endorsement from an industry leader, with BP CEO Bernard Looney commenting on our "exceptional delivery, safely and on time – in the midst of a global pandemic".

What challenges have you faced during the ongoing Covid-19 pandemic regarding project execution and how did you overcome them?
The progress of our projects has undoubtedly been affected due to the various stringent protocols, supply chain disruption and travel restrictions. We saw activities suspended and projects impacted in many locations due to lockdowns. However, we remained focused on looking after our people, suppliers and communities and we have continued to deliver safely.
Working remotely was something new for most people. It has not always been easy. Despite this, our teams have continued to amaze us with their driven to deliver approach, whether at home, in the office or on site. They have been agile to adapt and innovate, embracing technologies, whether it be to stay in touch and communicate more effectively, through to new ways of working such as remote testing and inspection activities.

What are your strategies and approach in areas such as sustainability, carbon capture and renewable energy?
Recognising issues such as climate change, we want to ensure sustainability is fully integrated into the business. It is key for long-term value creation and we are focused on enabling clients to meet the world's evolving energy needs. For our part, we are developing an energy transition strategy that supports clients' lower carbon ambitions.
We are working across our projects to improve energy efficiency and continuing to target more opportunities in renewable energy infrastructure. This is not something new, our experience goes back to 2008, with offshore wind substations, where we have been able to build a good position in the market. We are actively expanding our renewable energy portfolio in other areas, including carbon capture and storage (CCS). Earlier this year we secured a support contract for the Acorn project, which is on track to establish critical low carbon energy and CCS infrastructure for the UK.
Petrofac's long track record includes engineering, procurement, construction, installation, and commissioning projects, onshore and offshore. We are taking advantage of the whole skills base we have built up over 40 years with fantastic engineers, technicians and operators, and applying this across different sectors including renewables. This will continue to require momentum; we recently announced our own net zero targets that support the principles of the Paris Agreement and are also aligned with our clients' ambitions as the sector moves to a net zero future.

What about technology and digital transformation?
Two years ago, our digital journey started in earnest, with a simple 'what if'? Repeated downturns in our core sectors were driving a shift change in approach across the supply chain. We recognised the need to challenge industry conventions and our own beliefs to be able to innovate, improve, and stay ahead.
We quickly realised that our deep industry know-how could be combined with the latest technology to deliver assured and ultra-efficient outcomes. We also realised that the adoption of simple connected applications and wearable tech, could engage and empower our teams to work faster, be more agile and efficient. Our goal continues to drive us towards objectives, such as achieving 100 per cent on-time project delivery with greater efficiency and consistency. It is an exciting time for our industry and there are plenty of great opportunities for change.