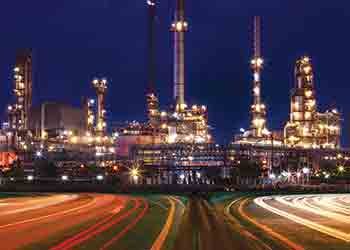 Liwa Plastics on track for commercial production in Q4
MUSCAT: Liwa Plastics Industrial Complex (LPIC), Oman's biggest petrochemicals investment to date, is on track to commence commercial production later this year.
Commissioning of the project began in May and marks the execution of the final stages of construction leading up to commercial production in the last quarter of this year.
The venture, set up with an investment of $6.7 billion, takes OQ's Downstream portfolio in Oman a step closer to realising Oman's vision for diversification.
LPIC comprises a gas extraction plant in Fahud, in Oman's central plains; a 300 km pipeline from Fahud to Suhar on Oman's Arabian Gulf coast, near Liwa, for which the complex is named; a steam cracker plant; and polymer plants (high-density polyethylene - HDPE), linear low-density polyethylene - LLDPE), and a polypropylene plant) in Suhar Industrial area.
MEA power industry contracts plunge 33pc in August
DUBAI: Contracts in the power industry across the Middle East and Africa plunged 33 per cent in August with just 20 contracts announced compared to the last 12-month average of 30, according to GlobalData's power database.
Iran led the activity in August with a share of 15 per cent (down 2.6 per cent over the previous month), followed by the UAE with a share of 15 per cent and Egypt with a share of 10 per cent. Looking at the last 12-month average, Iran held the top spot with three contracts, followed by Saudi Arabia with three and the United Arab Emirates with two contracts.
Looking at contracts divided by the type of technology, thermal accounted for a 50 per cent share, followed by solar with two contracts and a 25 per cent share and hydro with one contract and a 12.5 per cent share. T&D Project was the most popular segment in August 2020, with eight contracts, followed by Power Plant (six) and T&D Equipment (four).
The proportion of contracts by category included consulting and similar services (30 per cent share); project implementation (30 per cent); supply and erection (30 per cent); and repair, maintenance, upgrade (10 per cent).
Oman's oil and gas sector set to grow 14pc
BERLIN: Oman's oil and gas industry is expected to grow at a compound rate of 14 per cent during the period from 2020 to 2027, a new report prepared by the CMFE Insights Research Foundation has said.
The report added that the Asia-Pacific market is expected to see the fastest growth in terms of imports from the Omani oil and gas sector during the forecast period, after analysing global opportunities available in regions such as North America, Latin America, Asia and the Pacific, Europe and India, an Oman News Agency report said. As the demand for new innovative solutions increases and more startups emerge in the area, demand for Oman's oil and gas products will grow, it said.