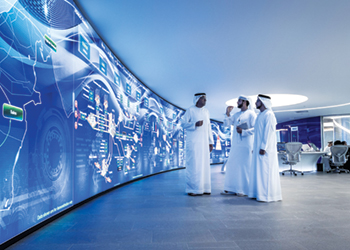 Panorama Digital Command Centre
The Abu Dhabi National Oil Company (Adnoc) is leading the regional oil and gas industry in exploiting technology to derive maximum benefits.
The company has made a series of strategic announcements that highlight its drive to capture greater value across its portfolio and build long-term resilience as it pursues smart growth. By leveraging technology, Adnoc has been successful in creating a more profitable upstream business and a more valuable downstream. In the past five years, advanced technologies have saved Adnoc over $2 billion in costs.
The state-owned company has initiated several innovative initiatives to embed cutting-edge technology across its entire value chain, including its AI and big data-driven Panorama digital command center, Thamama Subsurface Collaboration Centre for smart subsurface data analytics, and the use of computer vision technologies, big data modeling tools for value chain optimization, and blockchain for hydrocarbon accounting.
Adnoc has also expanded the scope of the world's largest combined 3D onshore and offshore seismic survey, currently underway in Abu Dhabi. The survey has been crucial role in identifying and exploring new hydrocarbon resources and in fact helped discover conventional oil and gas reserves and unconventional gas resources in 2019.
International exploration companies are using the survey to make further potential finds. In December, Occidental said it will invest $140 million in exploration at Onshore Block 5 covering 4,212 sq km.
Another Italian-Thai consortium has pledged over $400 million to explore Block 3's offshore area of 11,660 sq km.
Adnoc's performance has been hailed globally. Last month, Adnoc became the only major oil industry player in the world to retain AA+ standalone and AA Long-Term Issuer Default Credit Rating with a stable outlook. The rating reflects Adnoc's high upstream production, low cost of production, integrated downstream operations, etc.