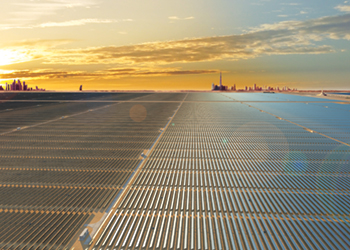 Al Dhafra will have large GSU transformers
Hitachi ABB Power Grids has said it will supply large generator step-up (GSU) transformers, protection and telecommunication systems to China Machinery Engineering Corpora-tion (CMEC), the contractor building the Al Dhafra PV2 Solar project in Abu Dhabi, UAE.
Abu Dhabi National Energy Company (TAQA) is developing the plant along with Abu Dhabi's Masdar, EDF Renewables and Jinko Power. The project is located 35 km from Abu Dhabi city and will supply power to Emirates Water and Electricity Company.
The Al Dhafra Solar Photovoltaic project, consisting of approximately 3 million solar panels, will be the world's largest single-site solar farm.
With 2 gigawatts (GW) of power capacity, the farm will generate electricity for an esti-mated 160,000 homes across the AE, contributing to the shift to sustainable renewable energy. The project is expected to be put into operation by November 2022.
This benchmark project in the UAE is the latest example of how Hitachi ABB Power Grids' world-leading technologies are helping to build a global, interconnected and sustainable energy system, enabling sustainable societies and putting the company's Sustainability 2030 strategy into action.
"We are proud to be part of the Al Dhafra PV2 Solar project as it is a great opportunity for our vision of augmenting the share of renewables in the world's energy mix," says Dr Mostafa AlGuezeri, Managing Director of Hitachi ABB Power Grids in the UAE, Gulf, Near East and Pakistan.
The high-quality and durable transformers, protection and telecommunication systems are designed to withstand the hot desert climate and intermittent solar power supply and will help to stabilize power transmission to the local power grid, supporting energy-efficiency and the supply of cost-effective solar energy.