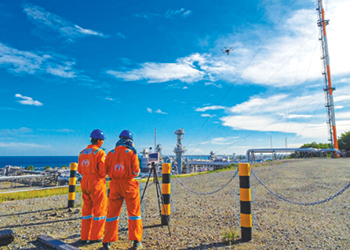 Team conducting online flare inspection
NDT Corrosion Control Services (NDTCCS), a leading non-destructive testing (NDT) service provider in the Middle East, and global drone service provider Terra Drone have successfully conducted online flare inspections using drones for the Abu Dhabi National Oil Company (Adnoc).
The inspection was done using a drone with the objective of checking the condition of the flare using a visual and thermal infrared camera when the flare is online rather than in a shutdown.
It was NDTCCS's first time using drone technology.
The work was carried out at a production facility managed by Adnoc Offshore in Abu Dhabi. And the type of drone used is the latest drone from DJI, the M300 RTK with Zenmuse H20T.
During the job, the teams involved were scheduled to stand by on site for a month to inspect multiple flares online throughout the production facility.
The inspections carried out included a visual inspection using a high-resolution ultra-zoom camera and a thermal examination using a high-accuracy thermal infrared camera.
A challenge for the teams during execution was the scorching July heat in Abu Dhabi. These conditions required the team to take extra measures to ensure the work can be completed safely.
The advantage of using drones for the job is that flare checking can be done while the facility is online, thus helping the facility owner save the large opportunity costs that usually occur when flares are turned off.
There are also many safety benefits with drones as the operator can operate them from a safe distance, without the need to work at heights and in hot environments.
This job signaled the beginning of a potentially long-term collaboration between the involved parties.
Adnoc is encouraging more state-of-the-art technologies, including drones, as part of its daily operations, to ensure safe, reliable, and efficient operations.
NDTCCS and Terra Drone have been working together since 2019 to capture market opportunities in the UAE and surrounding countries.