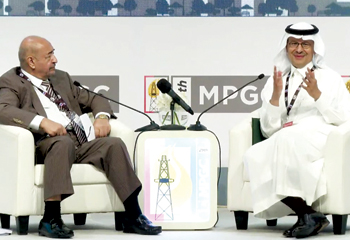 Prince Abdulaziz at MPGC 2022 ... world needs more oil capacity
Saudi Arabia is ready to increase its oil production capacity to 13.3-13.4 mbpd by the end of 2026 or starting 2027, but only if the market wants it, says the Minister of Energy

His Royal Highness Prince Abdulaziz bin Salman Al Saud, Minister of Energy for Saudi Arabia, urged the world to do more to increase oil production capacity, and that, he said, would happen only if the air around investment in oil and gas was cleared.
Meanwhile, at home, the Kingdom has drawn up extensive plans to derive maximum potential from oil and gas, including increasing national oil output capacity, a liquid displacement programme to use gas to power the country, crude to chemical in the downstream, and renewables.
Compared to other energy sources (in many markets)
oil has remained relatively stable
The Prince warned the world was running out of capacity while supply chain issues were aggravating the impact.
"It is not an issue of Opec+; it is an issue for the world to attend to because everyone is going to be impacted including the producing countries," he said, adding that at a time like this there was the need for more excess capacity to allow for a contingency.
Prince Abdulaziz was speaking at the 29th Annual Middle East Petroleum and Gas Conference held in Bahrain in May.
Asserting that the markets are driven by expectations, he lashed out at wrong market signals given about oil and gas and cherry-picking when it came to industry investment.
"As an economist, I believe in expectations. And if the market signals and expectations are not encouraging, no industry will expand."
He alluded to calls for investing in existing fields rather than greenfields, because the energy market would transcend a period where these new fields, when they come in stream, would not be required or needed.
"If this is not a wrong signal for our market, I don't know what else," the Prince said.
He said: "You cannot tell manufacturers and refiners that this is going to be a prohibited industry and that financing will be tight. And then you are surprised when people don't invest because they are waiting to see what will happen."
Further he continued that now there was another layer of uncertainty, which is in refining.
Crude price is only one component of the product prices
at the pump in OECD and G7 countries
The Prince said nobody had invested in refining except for a few countries. "The rest of the refining capacity went for foreclosures," he said.
"Refining capacity shortages were causing refining margins to reach record highs and the change was a stark rise of 650 per cent from March last year until today," he said.
He added: "When demand is growing as a result of recovery from the pandemic, we're seeing that the facilities that can convert oil to usable products have shrunk and are further shrinking. So is it an issue of crude availability? And the answer is no."
The Prince didn't rule out transition, but expressed his annoyance at those who were advocating transition but are at the same time (for example) buying coal, for almost four times what it is now, and burning it.
"If this is not a contradiction, I don't know what is."
He said: "What we're going through now is an apologetic approach because some cannot afford politically to say, 'we've got it wrong; we need to reassess'."
He called upon policymakers to come out of the closet and speak up and say we need it (investment).
To prove his point of a regulated oil market impact on prices, the Prince presented figures that showed the huge price jumps that fuels, such as gas and coal (unregulated markets), had made compared to oil in the period from March 2021 to March 2022, with both resources rising as high as 300 per cent.

KINGDOM TO INCREASE OUTPUT
Prince Abdulaziz said the Kingdom is ready to increase its oil production capacity to 13.3-13.4 million barrels per day (mbpd) by the end of 2026 or beginning of 2027, but only if the market wants it.
"It is not switch on, switch off. A million barrels is six to seven years of work. More than the money, it is about pre-engineering, manufacturing, pipes, drills, wells, etc. And if you don't do it properly, you lose a lot of efficiencies."
He signaled that the Kingdom would be diverting oil to the downstream. Three out of four million barrels will be moved to chemicals manufacturing, both at home and abroad, he said.
"We cannot afford to be compartmentalised. And, therefore, we are watchful of what we want to do with our oil all the way to the manufacturing bit, which is chasing the molecule all the way to convergence."

GAS & ENERGY TRANSITION
Saudi Arabia plans to produce 50 per cent of its energy from renewables by 2030, and gas will play an instrumental role in redefining the energy mix.
An initiative the Kingdom is looking at is the 'liquid displacement' programme, which will see it replace expensive fuel oil and crude used for power generation with gas and renewables, according to Prince Abdulaziz.
The Kingdom is one of a few countries that burns crude and fuel oil to generate power despite having gas.
"By burning gas, the country can have a triple win. It will allow it to invest in gas, convert the power sector to gas, and add renewables to the stream," said Prince Abdulaziz.
He said the burning of one million barrels for utilities, including desalination, could be prohibited, and this saved crude could be added to the country's export capacity.
In addition, the price differential from selling the saved crude at international market prices (crude is sold at $6 a barrel for utilities locally) would mean more money that could be invested in gas and renewables.
Work is underway on the vast Jafurah unconventional gas field, which holds an estimated 200 trillion standard cubic feet of gas
In this regard, Prince Abdulaziz said, the gas pipeline system was being expanded all the way to the southern area of Jizan.
For the storage of natural gas, Prince Abdulaziz said Aramco would be converting an aquifer to take care of the seasonality issue. As you know, in winter, demand comes down and then in the summer, it goes up.
"So we have an arrangement with Aramco that they are converting one of the aquifers just to make sure that we have a kind of a reservoir or a stock, if you could call it, a natural stock, to take care of the sharp seasonality demand," he says.
Converting to gas would also mean reducing emissions, which were targeted for 278 million tonnes reduction by 2030.

NEUTRAL ZONE OIL & GAS FIELDS
Prince Abdulaziz said both Kuwait and Saudi Arabia are making joint efforts to maximise potential from the Neutral Zone
"We're trying to first improve or go back to old capacities, which is was around 400,000 bpd," he said.
Both countries are working with Chevron to use steam flooding – a technology the oil company has used in Indonesia – in the area.
"We have been testing it and we will continue to test it to ensure we can use the same technology, albeit the aquifers in the neutral zone are different than the Indonesian aquifers," the minister said.
He said if the technology worked for them, the output could increase. "To what level? I think I will still say give us a year or two for figuring it out," he adds.
On the Durra field, both Kuwait and Saudi Arabia are going ahead to develop it despite Iran claiming rights to the field, "because the resources there are of common interest to both countries".
Prince Abdulaziz said Iran had been called to the negotiating table to discuss "potential claims" to the field.