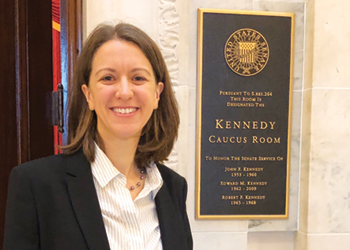 Dr Melissa Lott, Director of Research and Senior Research Scholar at the Center on Global Energy Policy (CGEP) at Columbia University, has been appointed to a prestigious UN council of experts.
She is among 36 members for the first global cohort of engineers to the Council of Engineers for the Energy Transition (CEET) by the UN Industrial Development Organization (UNIDO) and the Sustainable Development Solutions Network (SDSN)
Dr Lott has worked as an engineer and advisor for nearly 20 years in the US, Europe, and Asia. At CGEP, she serves as the Center's Director of Research, leading a team of over 30 researchers on topics ranging from industrial decarbonisation, carbon management, and more.
She also co-leads the Power Sector and Renewables Research Initiative, where her work focuses on maximising the public health benefits of the energy transition to reach net-zero.
Dr Lott said: "It's an honor to join the Council of Engineers for the Energy Transition. I look forward to working with this incredible group of recognized global experts to support the UN's mission of facilitating a rapid and equitable energy transition."
Prior to joining CGEP, Dr Lott served as the Assistant Vice President of the Asia Pacific Energy Research Centre (APERC), where she led the development of the flagship APEC Energy Demand and Supply Outlook.