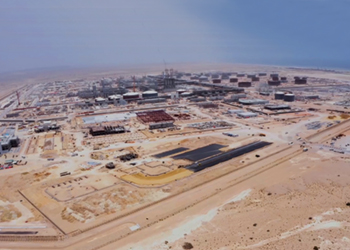 Name of Client : OQ8
Estimated Budget : $2,000,000,000
Main Contractor : McDermott International Petrofac; Samsung Engineering Company
Facility Type : Petroleum Oil
Sector : Exploration & Upstream Production Refining
Location : Duqm, Oman
Award Date : 2017-Q3

Background
The 230,000 bpd capacity refinery is part of the government's plans to develop the Duqm area, in which a port and associated facilities are being built. Around 65 per cent of crude feedstock for the refinery will be from Kuwait, and the rest 35 per cent from within the Sultanate. Natural gas for the utilities at the plant will be supplied via a pipeline that Oman Gas Company (OGC) is laying from Saih Nihayda in central Oman to the Duqm SEZ. The Central Utilities Company (CUC) will develop and operate seawater Intake facilities associated to the refinery. Duqm Petroleum Terminal Company (DPTC) will build a liquid jetty to handle ships bringing in crude for processing, and carrying refined fuels and petrochemicals for export markets.

Project Status
As of June 2022, pre-commissioning activities have begun. Some facilities within the package, including the energising of some lines, have already entered the commissioning stage. The first boiler is scheduled for start-up in June 2022..

Project Scope
The scope of work includes utilities and offsites (power, water, gas, steam, air, N2); tanks (crude, products and intermediate); sewage treatment facility; buildings (admin, main, lab, control room). The tanks will have various storage capacities: jet fuel (3*75 kbbl diesel, 3*186 kbbl LPG, 6*16 kbbl, naphtha - 3*92 kbbl, VR/HSFO - 4*252 kbbl); and crude storage tanks 3*300.

Project Finance
Duqm Refinery and Petrochemical Industries Company (DRPIC) is the client.

Project Schedules
Feasibility Study : 3Q-2006
PMC ITB : 1Q-2012
PMC : 3Q-2012
FEED : 1Q-2014
EPC ITB : 1Q-2015
EP : 3Q-2017
Construction : 1Q-2019
Commissioning : 2Q-2022
Completion : 1Q-2024