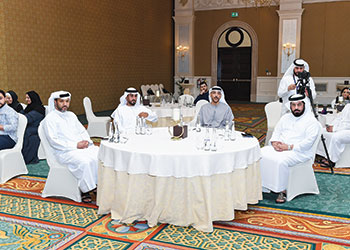 The EcoWASTE Exhibition and Forum being held as part of Abu Dhabi Sustainability Week from January 16-18 exhibition will explore the GCC's efforts towards a circular economy.
It will also be an opportunity for participants to learn about the GCC's innovative approach to sustainable waste management, and game-changing solutions to address the waste dilemma in the Mena region.
EcoWASTE is organised with the strategic partnership of the Abu Dhabi Waste Management Company (Tadweer) and will be hosted at the Abu Dhabi National Exhibition Centre (ADNEC).
The event will shed light on circular economy-based revenue streams and investment opportunities for existing businesses and start-ups across multiple sectors.
During the three-day event, EcoWaste will feature the UAE and GCC Waste Management Forum to discuss the region's sustainable waste management practices.
The forum also aims to identify opportunities for cooperation and partnerships between regional stakeholders, and enable discussions around the best solutions to face the challenges of the waste management sector.
The GCC currently generates between 105 and 130 million tonnes of waste a year, primarily from municipal solid waste, construction and demolition, and agriculture.
The World Bank estimates that the region's waste dilemma will double to 255 million tonnes a year by 2050 amid ongoing urbanisation across the Arabian Gulf.
According to a report by Boston Consulting Group in collaboration with the World Business Council for Sustainable Development, $60-85 billion must be invested across plastic, concrete, cement, metal, and bio-waste value streams over the next 20 years to realise GCC waste management and landfill diversion targets.
The Forum will host prominent keynotes, case studies and panel discussions that deep dive into disruptive approaches to create new value from waste, technology for waste management, landfill diversion strategies, waste-to-energy studies, the end of single-use plastics and improved waste management techniques.
The list of prominent exhibitors in the event include Italy's Dulevo International, Denmark's Eldan Recycling, ATI Industries of France, US-owned BTS Biogas SRL, Serbia's Plastik Gogic, and Sharjah-based BEEAH Group. In addition, companies from Saudi Arabia, the UK, Germany, Algeria, India, Cyprus and others will also be participating.
Eng Ali Al Dhaheri, Acting Director General of Tadweer, says: 'EcoWASTE Exhibition and forum is a platform which unites local, regional and global experts in multiple sectors including, waste management, recycling, reusing, re-manufacturing and waste-to-energy. The exhibition aims to foster knowledge exchange between industry experts on the best practices to manage and reuse waste to achieve sustainable improvements in this sector.'
He adds: 'While the Mena region faces some challenges in the waste management sector, we continue to leverage on key opportunities that will in return contribute to the circular economy of Abu Dhabi and the region.'