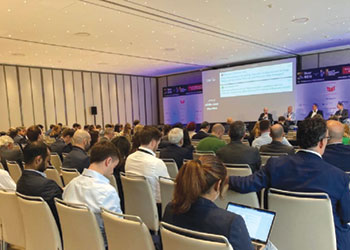 The upcoming World Hydrogen and Renewables Iberia conference and networking forum, testifies to the conviction behind the region's green energy aspirations and to Iberia's clean energy market potential.
The event will act as a facilitator for a number of future clean energy partnerships in the region, as well as a hub of clean energy conversation, debate, and learning.
Organised by World Hydrogen Leaders, the forum will take place from September 12 to 14 at the Riu Plaza España in Madrid.
Some key speakers include Thierry Lepercq, Founder & President, HyDeal, Antón Martínez Rodríguez, CEO, Enagás Renovable , Elena González Sánchez, Director of Energy Efficiency, Acciona, Nuno Ribeiro da Silva, President, Endesa Portugal, Marcel Galjee, Managing Director, HyCC, and Inês Diogo, Director of Environment and Sustainability, Madoqua, and many more.
Key conference topics include national and European policy impacts on Iberia's clean energy transition, renewable energy and hydrogen projects integration, supply chain and engineering bottle necks, hydrogen production and infrastructure developments, evolving best practice integrating solar and wind with storage, renewables and green hydrogen project bankability, corporate energy users and PPAs, hydrogen offtakers, clusters and case studies, and many more.
This year's conference also features a Pre-Conference Masterclass Day on September 12 with two-hour sessions over two separate streams: a hydrogen focused stream delving deeper into project development, bankability, and the Iberian region developments, and one renewables stream focusing on PPAs, batteries and storage, and talent acquisition.