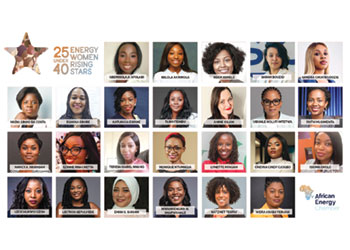 Africa's rising women stars in the energy sector
The African Energy Chamber (AEC) has announced over two dozen young women, who have emerged as trailblazers in the energy sector.
"These women are redefining the possibilities within a traditionally male-dominated field, and the AEC is celebrating these rising stars to be leading the way towards making energy poverty history by 2030," the AEC said in a statement.
The '25 Under 40 Energy Women Rising Stars' include:
• Gbemisola Adeyemi Afolabi, Junior Geoscientist at Nigeria's AMNI International.
• Ibilola Akinnola, LNG Shipbroker at Maersk in Nigeria.
• Rekik Bekele, CEO and Founder, Green Scene Energy in Ethiopia.
• Sarah Bouzid, Technical Sales Lead - Production Systems Division at Schlumberger in Algeria.
• Sandra Chukwudozie, Founder and CEO of Salpha Energy in Nigeria.
• Nadia Simao da Costa, HR People Analytics Supervisor at Chevron in Angola.
• Eghosa Ebube, Portfolio Analyst, Chevron Nigeria.
• Katuiscia Laurence Ewane, General Field Engineer, SLB in Cameroon.
• Taimi Itembu, Public and Government Affairs, ExxonMobil in Namibia.
• Anine Kilian, Managing Editor, Energy Capital & Power in South Africa.
• Ubuhle Noluti Mtetwa, National Manager, Secondary Logistics, bp South Africa.
• Faith Musimenta, Senior Petroleum Economic and Financial Analyst, Petroleum Authority of Uganda.
• Nancy Asantewah Nkansah, Resource Manager - Planning and Supply Chain for West Africa, SLB in Ghana.
• Ezinne Nnachetta, Development Geologist, Chevron in Nigeria.
• Teresa Isabel Nnang Avomo, CEO, GEPetrol in Equatorial Guinea.
• Monique Ntumngia, CEO, Green Girls Project in Cameroon.
• Lynette Nyagah, Project Lead, Bentworth Energy in Kenya.
• Oneyka Cindy Ojogbo, Partner, Centurion Law Group in South Africa.
• Isioma Okolo, Reservoir Engineer, Shell in Nigeria.
• Uzochukwu Ozoh, Legal Advisor, Chevron in Nigeria.
• Lecticia Sepulvede, Public and Government Affairs Advisor, ExxonMobil in Mozambique.
• Eman S Shahin, Performance Lead and Senior Petroleum Engineer, Dragon Oil Egypt.
• Mwanyengwa Ndapewoshali Shapwanale, Director Communications and Stakeholders Relations, ReconEnergy Namibia.
• Natznet Tesfay, Vice-President Economics & Country Risk, S&P Global.
• Nidra Araba Yebuah, Digital and Integration Account Manager for Ghana and Equatorial Guinea, SLB in Ghana.