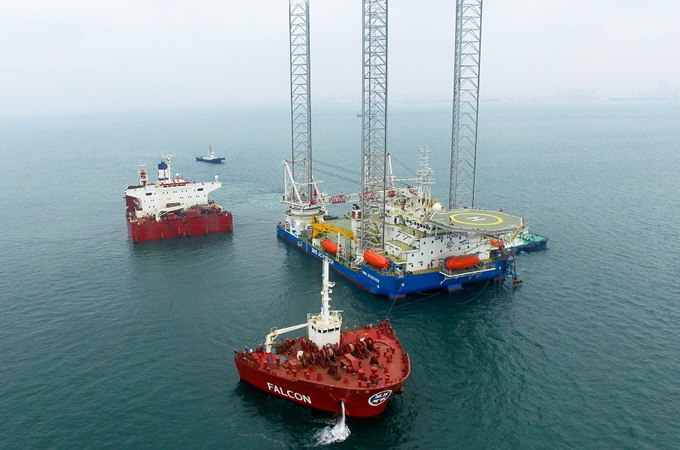 ZMI Holdings has announced that Adnoc Logistics & Services, the shipping and maritime logistics arm of Adnoc Group, has entered into definitive agreement to acquire ZMI.
The transaction is subject to customary regulatory approvals and is expected to close in Q4 2022. ZMI owns and operates the world's largest active fleet of offshore jack-up barges, complemented by a large fleet of offshore support vessels.
This strategic combination with Adnoc L&S creates a unique platform for ZMI to accelerate its growth and expand its business footprint in the region and globally, allowing it to capture new revenue opportunities and drive market consolidation, said a statement.
Adnoc L&S will benefit from ZMI's extensive capabilities, its experience established over nearly four decades, its fit-for-purpose fleet of over 60 vessels, as well as its operational excellence and impeccable HSE record. ZMI has a broad and diversified customer base across the UAE, Saudi Arabia and Qatar, with long-term relationships with NOCs and IOCs. Furthermore, the company recently entered the Offshore Wind Farm (OWF) market in China, providing geographic diversification and an entry point into the renewables market. ZMI has significantly grown its jack-up fleet over the past years and is on track to deliver a record EBITDA run rate of over $300 million in 2022.
Hassan Abdelkader El Ali, Founder, Chairman and Board member of ZMI, said: "This strategic transaction supports our growth ambitions as we work with oil & gas clients as well as accelerating our business supporting the transition to net zero. Expanding our services will allow us to more effectively address our customers' needs and challenges. We have plans in place to further diversify our portfolio of assets and clients, expanding in China and utilising Adnoc's breadth and depth to rapidly scale-up in areas of high demand. Adnoc has been a long-standing partner and we are confident that together we will continue to provide a world-class service across the regional and global offshore oil and gas and renewable markets."
Ali Hassan El Ali, Deputy Chairman of ZMI, added: "Following the acquisition by Adnoc L&S, we are primed to drive and convert on our strategic priorities. We will leverage Adnoc's extensive global operations to move ahead with our market consolidation and fleet expansion plans, alongside pursuing value-added opportunities in the energy transition space and establishing relationships with operators in new markets."
ZMI will continue operating as a standalone entity under Adnoc L&S and will be led by Ali Hassan El Ali as Chief Executive Officer. Ali joined ZMI as Business Development Director in 2014 and was promoted Managing Director in 2017, leading the day-to-day operations of the business and seeing ZMI through a critical phase of accelerated growth to become a major player in the sector.
Goldman Sachs International acted as financial advisor and White & Case as legal counsel to ZMI. Moelis & Company acted as financial advisor to Adnoc L&S. – TradeArabia News Service