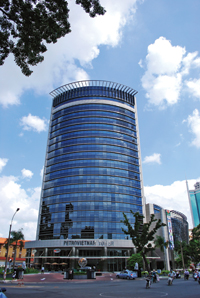 PetroVietnam ... finding a partner in KPI
STATE-RUN Kuwait Petroleum International (KPI) and its joint venture partners have held a groundbreaking ceremony for a $9 billion refinery and petrochemical complex in northern Vietnam. The ceremony took place at the construction site in the Nghi Son Economic Zone, about 180 kilometres south of the Vietnamese capital Hanoi, in the presence of Kuwaiti Deputy Prime Minister and Minister of Oil Mustafa Al-Shimali and Vietnamese Prime Minister Nguyen Tan Dung, as well as more than 1,300 senior officials in the energy sector from Kuwait, Japan and Vietnam. Al-Shimali, Dung and other representatives laid a foundation stone for the plant at the historic event.
Covering an area of 400 hectares in northern Thanh Hoa Province, Nghi Son Refinery and Petrochemical Complex is welcomed as Vietnam's second refinery and the first with foreign investors' participation. Kuwait aims to expand its retail business in Vietnam, where demand for oil products is rapidly increasing for 90 million people and 33 million motorbikes.
Construction will be completed in the fourth quarter of 2016, and commercial operation is expected to start in mid-2017 with a refining capacity of 200,000 barrels per day, equivalent to 10 million tonnes per year.
It will meet 40 per cent of Vietnam's fuel demand, and the capacity would be doubled in the second phase if the local demand is robust. Despite being Southeast Asia's third-largest crude oil producer, Vietnam still relies on imported oil products as it lacks refineries.
Licensed in 2008, the joint venture is 35.1 per cent evenly owned by KPI and Japan's Idemitsu Kosan Co., 25.1 per cent by PetroVietnam and 4.7 per cent by Mitsui Chemicals Inc.
KPI's parent company Kuwait Petroleum Corporation (KPC) will supply all the feedstock for the facility, which will also include petrochemical units, energy facilities, a pipeline and storage systems, along with an information management system.
As Kuwait's third refinery abroad after Europoort in the Netherlands and Milazzo in Italy, the joint venture reflects Kuwait's desire to invest in the growing energy markets and maximise the value-added benefits of the nation's petroleum resources and implement KPI's long term strategic directions designed to expand the refining operations, sales in emerging and promising new markets.
Addressing the ceremony, Al Shimali said the landmark event is a very important and happy moment for the project to celebrate the success of joint efforts of partners over the past years. "I eagerly look forward to the next phase of Nghi Son Refinery and Petrochemical Project, and a new height for the friendship and cooperation between the peoples of Vietnam, Kuwait and Japan on all fronts," the minister said.
The minister stressed that the project has been made possible thanks to the commitment from all related parties and after many years of hard work from the joint venture partners and other stakeholders, with the support and guidance from respective governments.
"From Kuwait, we see this project as one of high strategic importance because it symbolises the strong and close friendship between the peoples and the governments of Kuwait, Vietnam and Japan," Al Shimali said, adding that it brings together a combination of the necessary elements from the three countries for a successful refinery.