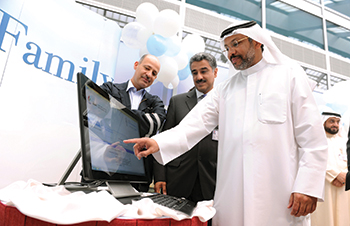 Mutairi ... KNPC is currently working to expand capacity to 1.4 mbpd

Kuwait is looking to complete the Al Zour oil refinery project by December 2019, according to a statement from Khaled Mahdi, secretary general of the supreme council for planning and development.
The deadline ties in with the state objective of achieving a production capacity of 4 mbpd of crude oil by the end of 2020, up from the current capacity of 3.2 mbpd.
Al Zour is a cornerstone of Kuwait's development of its broader downstream capabilities, which will include more than doubling the refinery capacity of the state-owned Kuwait National Petroleum Co (KNPC) to 2 mbpd by 2035 as part of a $25 billion spending plan.
The expansion from around 936,000 bpd of long-held capacity across the Mina Al-Ahmadi, Mina Abdullah and Shuaiba refineries will take place over two phases, according to a comment from KNPC CEO, Mohammad Ghazi Al-Mutairi.
He said that KNPC was currently working to expand capacity to 1.4 mbpd, which includes starting up the greenfield 615,000 bpd Al Zour refinery, following the permanent closure of the 200,000 bpd Shuaiba unit in March 2017.
More specifically, the first phase of the new expansion will take domestic capacity up to 1.7 mbpd in 2025, before hitting the 2 mbpd target by 2035 under the second phase. This will include the building of a brand new refinery, although no further details have been forthcoming as yet.
This expansion will be a solution for the treatment of heavy oil in line with the expected increase in production from the exploration and production sector, he said. Mutairi added that it built on Kuwait's previous 2030 goals, set in 2009, which included raising downstream capacity by 480,000 bpd to 1.4 mbpd, factoring in the completion of Al Zour.
Under the new plan, Kuwait's domestic refining capacity will represent 42 per cent of the country's crude oil production capacity by 2040, up from 27 per cent.
As it stands, Al Zour is around 57 per cent complete, but when finished it will process Kuwait's heavy crude from the north of the country and provide more low-sulphur fuel oil for domestic power production.
KNPC signed $13 billion in contracts in mid-October 2016, allowing for the planned completion of Al Zour by mid-2017. However, the end of 2020 now appears a more realistic completion date, given the series of delays in awarding the final contract covering the construction of a pipeline to supply crude oil, Richard Mallinson, senior geopolitical analysts for Energy Aspects, told NewsBase Intelligence (NBI).
Along with other related projects, Al Zour will produce clean fuel, in addition to kerosene and diesel, for the local power market, processing around 615,000 bpd of crude oil.
In tandem with this, Kuwait Oil Co (KOC) announced that it had completed two production centres (numbers 29 and 30) with a capacity of 100,000 bpd each. This, and the completion of the third centre (number 31), is part of the plan to increase the company's crude oil output in North Kuwait to 1 mbpd.