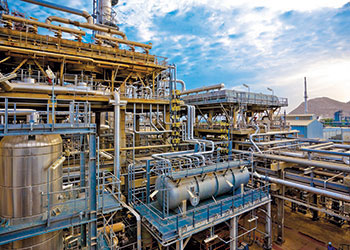 Orpic ... building an NGL pipeline
Name of Client : Orpic – Oman Refinery Company
Revised Budget : $303 million
Facility Type : Gas
Sector : Pipeline
Status : Construction
Location : Sohar
Feed : CB&I – Chicago Bridge & Iron Com pany
PMC : EIL – Engineers India Ltd
Main Contractor : Punj Lloyd
Background
The purpose of Liwa Plastics Project is to increase the production of plastics from the current 200,000 tonnes per year (tpy) to 1.4 million tpy. Orpic plans to adopt the mixed steam cracker technology in order to accept ethane, natural gas liquids (NGL), mixed liquid petroleum gas (LPG) and other condensate as feedstock (will be supplied by OGC's LPG and NGL Extraction Plants).
Project Status
February 2019: Galfar Engineering and Contracting wins a subcontract valued at $1.9 million from Punj Lloyd. The contract covers the erection and installation of 14-inch Block Valve Station (BVS) piping for the Fahud-Sohar pipeline's natural gas liquid (NGL) component
Project Scope
The scope of work for includes the construction of:
• A 14', 300 km natural gas liquid (NGL) pipeline (from the New Fahud NGL Plant to the Steam Cracker Unit at Sohar)
• A 32', 301 km gas pipeline (parallel to the existing 32' Fahud – Sohar pipeline for OGC.)
• Block valve
• Pigging stations
• Associated facilities
Project Finance
Oman Refineries & Petroleum Industries Company (Orpic) is the client.
13 Mar 2016 - Orpic closes the financing facility for the project.
Project Schedule
Feed ITB Q3-2013
Feed Q1-2014
EPC ITB Q3-2014
Engineering & Procurement Q4-2015
Construction Q4-2016
Completion Q3-2019