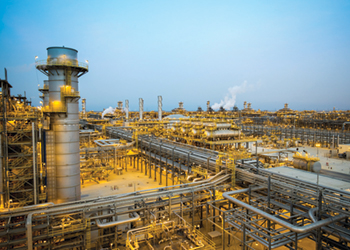 The Fadhili Gas Plant
Name of Client : Saudi Aramco - Saudi Arabian Oil Company
Estimated Budget : $6.6 billion
Facility Type : Gas Treatment Plant
Sector : Gas
Status : Construction
Location : Eastern Region
FEED : WOOD
PMC : WOOD
Main Contractor : Tecnicas Reunidas, Petrofac, Abdul Ali Al-Ajmi Co., Arkad (formerly Saudi Kad), Al Muhaidib Trading & Contracting Establishment

Project Status
October 2019: Contractors working on the Fadhili Gas Plant project are expected to complete their respective EPC works in Q1 2020 followed by project commissioning in the same quarter.

Project Scope
Saudi Aramco plans to build a new gas plant at the Fadhili oilfield with a processing capacity of 1 billion standard cubic feet per day (scfd) of sour gas (high in sulphur).
Additional scope of work include the following:
• Raw gas inlet and processing facilities
• Natural gas liquids (NGL) fractionation unit
• Sulphur recovery unit
• Dedicated co-generation power plant
• Industrial support facilities
• Fadhili downstream pipelines of 240km 56inch
• Residential camp
• Associated facilities

Project Finance
Saudi Aramco is the client of the scheme.

Project Schedule
Project Announced 1Q-2013
FEED ITB 2Q-2013
FEED 3Q-2013
EPC ITB 4Q-2014
Engineering & Procurement 3Q-2015
Construction 1Q-2016
Commissioning 1Q-2020
Completion 2Q-2020