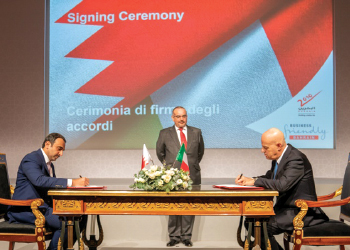 Shaikh Mohammed and Descalzi sign the agreement as HRH the Crown Prince looks on
Bahrain has signed key agreements with major Italian firms to boost its upstream and downstream sectors.
In one deal, Tatweer Petroleum and Italian oil and gas company Eni agreed to explore new areas for collaboration in renewable energy and supply and exploration of liquefied natural gas (LNG), a Bahrain News Agency report said.
The agreement was signed by Shaikh Mohammed bin Khalifa Al Khalifa, Minister of Oil and Chairman of Tatweer Petroleum, and Claudio Descalzi, CEO of Eni, during a high-level visit to Italy led by His Royal Highness Prince Salman bin Hamad Al Khalifa, Crown Prince, Deputy Supreme Commander, and First Deputy Prime Minister.
A second agreement was signed between Gulf Petrochemical Industries Company (GPIC) and Italian oilfield services company Saipem to study the feasibility of various new projects in Bahrain.
The agreement is part of GPIC's strategy to expand operations and build on recent successes by studying the viability of implementing new projects within its industrial complex at Sitra and leverage the discovery of Bahrain's largest oil field, which was announced in 2018, said a BNA report.
Separately, Bahrain LNG said mechanical construction and commissioning of the Mideast's first LNG receiving and regasification terminal was complete.
The terminal comprises a floating storage unit, an offshore LNG receiving jetty and breakwater, an adjacent regasification platform, subsea gas pipelines from the platform to shore, an onshore gas receiving facility, and an onshore nitrogen production facility.