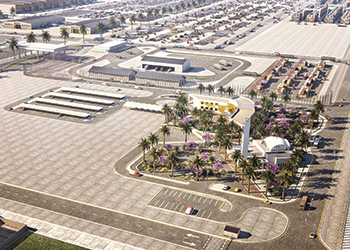 The dry port and logistics zone at Spark
With major energy companies having signed agreements, Spark will add an annual $6 billion to the Kingdom's GDP by 2035 and create thousands of new highly skilled jobs
Work is in full swing at the King Salman Energy Park (Spark) industrial city coming up in the Saudi city of Dhahran in the Eastern Province with 60 per cent of Phase One facilities – including infrastructure, roads and utilities and real estate assets established across 14 sq km in addition to a dedicated 3 sq km logistics zone and dry port - fully completed.
Spark is a fully integrated city being designed to become the leading gateway to the regional energy sector and will include an industrial area, dry port and logistics zone, as well as vibrant residential, educational and commercial zones.
A total of SR6 billion ($1.6 billion) has been invested in the Phase One of this mega project, which is set for completion next year.
Fifteen major energy companies have already signed agreements to invest in Spark, and another 15 are currently in the pipeline.
It is forecasted that foreign direct investment in Spark will exceed $2 billion over the next two years, once these investors finalize the construction of their facilities.
Once the project gets completed, it will add SR22 billion annually to the kingdom's gross domestic product by 2035, while creating thousands of new highly skilled job opportunities.
Spark Chairman Dr Mohammed Yahya Al Qahtani said: "Achieving this feat strongly reflects our commitment to implement this unique project that is designed for the betterment of our community."
"Spark will be a new engine fueling the growth of the energy sector as well as driving the diversification agenda of our economy. As we take huge economic leaps, soon, we will be ready to attract the best talent and create new opportunities for our ambitious youth," he added.
According to him, Spark has also signed an MoU with the leading global logistics specialists, Hutchinson Ports to create a joint venture company to manage and operate the dry port and logistics zone.
Once completed, its investors and neighboring regional hubs will be able to benefit from world class logistics infrastructure and enhanced global reach.