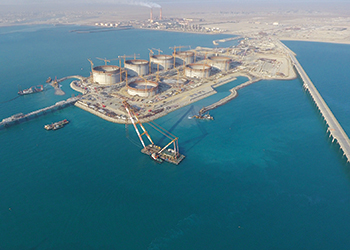 Name of client : Kuwait Oil Company (KOC)
Estimated budget : $845,000,000
Facility type : Pipeline
Sector : Oil pipeline
Status : Construction
Location : Ahmadi
FEED : Fluor Corporation
Main contractor : Saipem
Award date : Q3-2017

Background
The project is Kuwait Oil Company's scheme to install crude oil feed-stock pipelines as part of Kuwait's $15-billion new refinery project.

Project Status
As of August 2020, the project construction is still ongoing with commissioning scheduled for 2021. In January 2019, engineering works were completed and the civil construction works started. The project completion rate stands at 22 per cent.
Project Scope
The project scope includes construction of 250 km of oil feed-stock pipelines that will serve the planned 615,00 barrels per day greenfield Al Zour new refinery in southern Kuwait. The feed-stock pipelines will connect the South Tank Farms with the Al-Zour new refinery.

Project Finance
Kuwait Oil Company (KOC) is the client of the project.

Project Schedules
Feasibility Study 1Q-2014
EPC ITB 2Q-2014
EPC ITB 1Q-2017
Engineering & Procurement 3Q-2017
Construction 1Q-2019
Commissioning 2Q-2021
Completion 3Q-2021