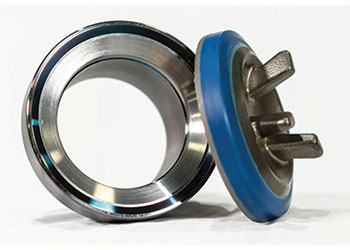 The EdgeX Valve and Carbide Seat
The EdgeX Valve and Carbide Seat will allow the nascent high-intensity frac market in Saudi Arabia to leapfrog over years of incremental gains undergone elsewhere as activity increases in the region, says the company
Weir Oil and Gas's new SPM EdgeX Valve and Carbide Seat increases seat life an average of six times and doubles valve life compared to conventional valves and seats—for substantial cost savings and reductions of nonproductive time (NPT).
Engineered with the nuances of the entire frac site in mind, the new system with patented technology enables operators to push their frac fleets harder while significantly reducing maintenance costs for valves and seats. It is a timely solution for operators focusing on their pump utilisation and downtime for pump maintenance.
The dramatic increase in longevity of the EdgeX Carbide Seat enables operators to reduce the amount of time pulling seats while reducing expenses for a costly consumable.
The EdgeX Valve and Carbide Seat offers greater resistance to wear, cracking and washout in the harshest pumping conditions — including those with large particles — without risk of shattering. It fits any standard taper fluid end and eliminates sensitivity to installation errors due to its strategic design and placement of tungsten carbide and steel. The 30-degree strike angle maximises interchangeability.
The EdgeX Valve incorporates proprietary urethane heads, contributing to double the valve life and further reducing operating expenses, maintenance time and safety risks.
"Operators across North America are pushing their fleets to their maximum ratings," says Paul Coppinger, President, Weir Oil and Gas.
"By looking beyond the pump and evaluating how to make the entire frac site more efficient, we engineered the SPM EdgeX Valve and Carbide Seat to reduce operators' greatest pain points around seat and valve maintenance and the associated expenses for each."
Oilfield services providers across North America have run the engineered seats between 515 and 760 hours, saving hours of on-site changeout time per bore. In the Permian Basin, Haynesville Shale and Western Canada, the EdgeX Carbide Seat outlasted previous seats by 719 per cent, 797 per cent and 540 per cent, respectively.
The system could prove a boon for the Middle East, which is looking at using fracking to produce more natural gas.
According to Keith Peach, Regional Managing Director EMEA and Asia Pacific - Weir Oil & Gas: "The EdgeX Valve and Carbide Seat represents a major shift in operating costs and efficiency for our industry. This technology will allow the nascent high-intensity frac market in Saudi Arabia to leapfrog over years of incremental gains undergone elsewhere as activity increases in the region."
To put this in perspective, the Haynesville Shale subjects frac equipment to some of the most extreme conditions (of any play in North America) with treating pressures as high as 12,500 psi.
To complete its multi-well pads, a Haynesville operator pumped an average of 650,000 pounds of abrasive 40/140-mesh proppant per stage.
Despite the 12,500-psi treating pressure and highly abrasive sand, the SPM EdgeX Carbide Seats lasted nearly nine times longer than the previous seats.
"The pumping provider ran the SPM EdgeX Carbide Seats an average of 538 hours — the longest life of any seat ever used by the company in the Haynesville Shale. Compared to the typical 60 hours of seat life, the SPM EdgeX Carbide Seats provided 797 per cent longer life, dramatically reducing maintenance touches, nonproductive time, and risk of injury on site," Peach says.
The SPM EdgeX Valve and Carbide Seat is supported by Weir Edge Services, Weir's global service offering, and Weir Edge Delivered.
With service and training centers in every US basin and every part of the globe, Weir Edge Services supports operators with a three-pronged approach that includes global access to local engineering experts, engineered repairs with highly skilled aftermarket support and industry-leading digital empowerment tools for Weir and other OEM equipment.
Meanwhile, Weir Edge Delivered provides convenient trailers for on-site access to parts, allowing SPM EdgeX Valve and Carbide Seat components to be removed and reinstalled in the field.