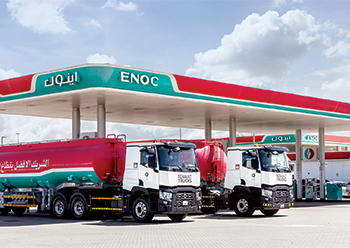 ENOC Group, a leading energy player operating across the energy value chain, has taken delivery of eight new C 380 Renault Trucks models, which will be used to deliver fuel to the Group's service stations across the UAE.
The new trucks will enhance the Group's existing fleet and is in line with Enoc's plans to partner with leading global brands that offer customer-friendly, cost-effective solutions.
The Renault Trucks C 380 Tractor Head 6x2 with rear liftable axle offers superior driver comfort, exceptional reliability and optimal fuel efficiency, making it ideal for regional and long-haul applications. It is equipped with a range of features ensuring a high level of safety, for the driver as well as for other road users.
The cab of the C 380 is built around the driver. All controls are at the driver's fingertips, while there is also a 7'' HD LCD information display and seats with fitted red seat belts designed by Recaro.
Safety features include an automatic parking brake, EBS (Electronic Braking System), ESC (Electronic Stability Control) to help maintain route stability control in difficult conditions, and AEBS (Advanced Emergency Braking System), which uses a radar unit and a camera to detect an imminent risk of collision.
The C 380 is equipped with a fuel-efficient DXI 11 Euro 5 engine and OPTIDRIVER gearbox, which combine to help minimise fuel consumption and reduce operating costs. The trucks are also fitted with CALS (Centralised Automatic Lubrication System), to ensure maximum uptime and lower service and repair costs.