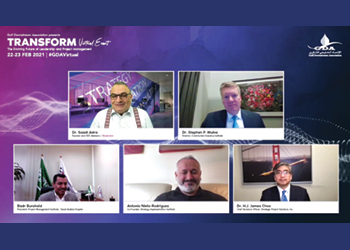 The panel discussion at Transform
Managing the complexity of major capital projects in today's oil and gas landscape has never been more critical. Large projects make up a significant percentage of company spend and, therefore, require particular focus taking into account capital constraints due to the ongoing pandemic, and business climate.
Global project management experts at a panel at the Gulf Downstream Association's (GDA) virtual 'Transform' conference held in February reflected on project challenges, and discussed practices that have helped organisations survive the pandemic.
Moderated by Dr Saadi Adra, Founder and CEO for Advisors and member of the GDA project management technical committee, the panelists included Badr Burshaid, President, PMI KSA Chapter, and currently programme director of Saudi Aramco's Marjan and Zuluf offshore programmes; Dr Stephen Mulva, Director, Construction Industry Institute (CII); Dr James Choo, Chief Technical Officer for Strategic Project Solutions; and Antonio Neito-Rodriguez, ex-Chairman PMI and co-founder of the Brightline Initiative.
This panel discussed collaborative ways the downstream and service providers could take to deliver efficient projects.
According to Dr Adra: "Our success in the future will be contingent on developing collaborative and partnership models that can include various components and stakeholders, such as investments, equity, joint ventures and other frameworks such as public private partnerships across the whole investment lifecycle.
"In future frameworks, all stakeholders will need to operate as a whole and in great unity for managing competitive and greatly optimising project management. Collaboration, partnership, trust, integration and optimisation are holistic themes that need to be fused in every framework and operating model."
• Agile as a means rather than end: The future project manager needs to be both flexible and result-oriented. He is required to do more for less, focus on sustainable benefits and actual impact, and act as a partner in accountability together with senior officers and sponsors.
"He should behave as a businessman; develop the required capacity, continuously review the operating models, innovate in managing risk to lower costs down, and minimise transactional waste," says Dr Adra.
As such, the project manager needs to be a generalist, who understands the requirements of strategy implementation, as well as understand the transformation needs for existing operations. Between the two, his project should be able to fill the space and bridge the gap.
As such, Dr Adra says, current project managers will undergo some upskilling in both their competencies and organisational practices, integrating the temporary with the permanent altogether.
• Strategic digitalisation transformation: Emerging technologies have enabled organisations to work through disruptions, and turn crises into opportunities, such as advanced work packages, modularisation, and the utilisation of AR/VR HoloLens for conducting factory acceptance testing to name a few.
Additionally, AI, IoT, automation and digitalisation are expected to further enhance business sustainability by predicting future unexpected failures. But this is not where the story ends; it rather starts.
"Organisations have discovered they cannot act as consumers for every new technological disruption, but rather they need to re-strategise taking into consideration the full holistic perspective, addressing where technology costs are feasible to produce strategic wins and where they need to wait and learn more," says Dr Adra.
"Hence the strategic boards need to include digitalisation as an inseparable ecosystem within which they strive to uncover what and how technology can bring them value, in line with their original vision and quest."
• Back to portfolio management: Organisations need to focus on the selection of investments, with greater engagement from senior leaders and more organisational flexibility from design, through procurement and all the way through operations.
Hence portfolio management will gain momentum and more organisations will build their capabilities, much due to the fact that portfolio accommodates the integrated lifecycle management framework that crosses various business units, breaks silos, enhances integration and collaboration, leverages proper governance on both strategic selection through to allocation of funds and resources.
• Conclusion: The future ascends from focusing on the project up to the whole ecosystem, minimising competition in favour of partnerships and equal distribution of risks, accountabilities, investments and sharing of benefits within a digital and highly agile framework.