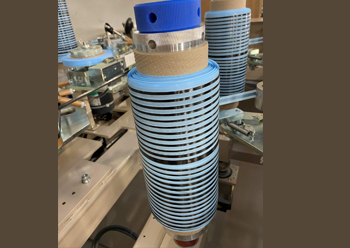 The AX-6170 prepreg
The narrow tow prepregs are specially designed to improve safety, increase strength, reduce waste, and withstand high temperatures in applications such as critical battery containment, high-pressure vessels, and structural components
Axiom Materials has introduced its tow prepregs, which are specially designed to withstand high temperatures enabling their usage in sustainable mobility applications including electric, CNG and hydrogen-powered aircraft and vehicles.
Compared to traditional two-dimensional composite counterparts, these carbon fibre composite prepregs offer lower CO2 emissions and lower ecological impact and are the ultimate targets of mobility today.
Their primary uses are large structural parts and pressure vessels for compressed nitrogen gas (CNG) and hydrogen fuel tanks for vehicles.
The narrow tow prepregs are specially designed to improve safety, increase strength, reduce waste, and withstand high temperatures in applications such as critical battery containment, high-pressure vessels, and structural components that will support nextgeneration transportation.
Commenting on the product range expansion, Dr Johnny Lincoln, CEO of Axiom Materials, says: "Placing sustainability at the core of our activities, we are pleased to expand our capabilities in the composites field with 2 new prepregs. AX-6170 and AX-6201XL are flagship materials for us. They reflect our commitment toward advancing the goals of carbon neutrality, clean emissions, and environmental sustainability in advanced materials.
He says the prepreg line offers marked advantages over traditional two-dimensional composite prepregs and hand lay-up methods.
The products are designed for either automated fiber placement (AFP) machines, or for machine-supported winding techniques used in the preparation of round, cylindrical, and rectangular three-dimensional vessels and structures.
"We are proud to say that our narrow slit prepregs improve passenger safety, enhance fuel efficiency, reduce waste, all the while enabling lower cost, higher performance, and more environmentally benign transportation," says Lincoln.
AX-6170-C-150GT700-0.25" RC37 prepreg is a ¼-inch wide cyanate ester tape for critical strength parts with 150 gsm weight, operating in high-temperature environments up to 316 deg C, such as lithium-ion battery containers.
And the AX-6201XL-C-150GT700-0.25" RC37 is a ¼-inch-wide toughened, epoxy carbon prepreg, also 150 gsm weight, designed for the manufacture of larger parts requiring excellent surface quality.
Both prepregs may be cured using a vacuum bag oven or autoclave processes. The product is also available in a flame-retardant variant.
The resin systems are designed by Axiom Materials. AX-6170 and AX-6201XL will also be manufactured in Turkey at Kordsa's Composite Technologies Center of Excellence.
Kordsa's Composite Technologies Center of Excellence is an exemplary ecosystem bringing industry and academia together, also contributing to a more sustainable future through its R&D studies and innovations.
Axiom Materials has manufactured materials for the world's most complex applications for over a decade. As a global leader in composites, the company creates solutions such as providing heat protection for rockets, making aircraft lighter weight, and industrial equipment more durable.
Axiom's advanced technology composite materials have become the industry standard in the composite market through R&D studies, new chemistry, and customer-driven applications.