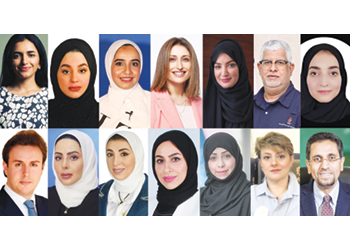 Finalists of the 2021 LEWAS Awards
With more than 150 high-calibre applications received this year for the LEWAS Awards from across the energy spectrum, over 50 per cent of these are from renewables, finance, communications, and technology
The Leadership Excellence for Women Awards (LEWAS) — one of the most awaited energy awards of the year — have announced finalists for 2021.
They received more than 150 high-calibre applications from across the energy spectrum this year.
The awards have seen a massive shift as it received nominations from beyond the traditional sectors. Over 50 per cent of applications this year are from renewables, finance, communications, and technology sectors.
Now in its 7th edition, the LEWAS awards continue to bring to the world's notice outstanding trailblazers - women, male champions, and organisations - in energy from the Middle East.
The 23 finalists shortlisted this year are high-profile individuals and committed organisations who were carefully selected for their drive and commitment for outreach, support; ensuring that they furthered the diversity and inclusion agenda through exemplary behaviors. Their common link is brilliance on and off the playing field.
Reem Al Ghanim, Chair of LEWAS, said: 'We've seen a steady rise in applications over the years. The 2021 edition of the awards have clearly shown that despite going through a turbulent 18 months, the energy industry has bounced back, through its people, the values they have and the sheer grit to turn every weak spot into opportunities.'
The jury had to go through a lengthy and tough review process to pick finalists, who represent organisations like Aramco, Kuwait Oil Company, Bapco, Adnoc Group, Dewa, Schneider Electric and many more.
Winders will be personally handed over their awards by Shaikh Mohammed bin Khalifa Al Khalifa, Minister of Oil, Kingdom of Bahrain, and patron of LEWAS, on November 9 at an in-person gala dinner at the Gulf Hotel, Bahrain.
Finalists will get an all-expense-paid trip with a night's stay, networking opportunities with C-suite energy executives and a free membership to global networking platform for women across sectors, supported by iSAW (International Smart Advancing Woman).
The finalists of each of the LEWAS 2021 award categories are:
• Academic Achievement for Student Award: Rozan Wali, KAUST; Yara Alghamdi, Princess Nourah bint Abdulrahman University; Reem Aseeri, Princess Nourah bint Abdulrahman University; and Lina Alzayer, University of Bahrain.
• Academic Achievement for University Professor Award: Dr Sumaya Abbas, Arabian Gulf University; Dr Awatif Hendi, King Abdullah Institute for Nanotechnology - King Saud University; and Dr Hayat Abdulla Yusuf, University of Bahrain.
• Rising Star Award: Najla Al Shamsi, Dubai Electricity and Water Authority; Maha Fakhroo, Bapco; and Zainab Alali, Aramco.
• Leading with Excellence Award: Dr Amani Musharah, Aramco; Salma Alsinan, Aramco; Roqaya Al-Wazzan, Kuwait Oil Company; and Dalal Al-Alaimi, KUFPEC.
• Woman of Achievement Award: Basma El Zein, University of Business and Technology; Salma Al Hajeri, Mubadala Petroleum; Mai Al Eisa, Kuwait Petroleum International; and Nadia Al-Zeabot, Kuwait Oil Company.
• Corporate Champion Recognition (Male Champion): Alex Malouf, Schneider Electric; Abdulkarim Alghamdi, Aramco; Dawood Nassif, Bapco; and Rashed Jouda Al-Fadhili, Kuwait National Petroleum Company.
• Corporate Excellence Recognition: Kuwait Petroleum International; and Adnoc Group.
The winners will be invited to speak at the Annual LEWAS Symposium being held virtually on November 23, 2021. The symposium will focus on re-engaging, re-learning and re-inspiring workforces, who have had to transform the way the work due to digitalisation.

LEWAS AWARDS 2020
Last year, the LEWAS Awards recognised energy game changers in the Middle East for their impact on leadership, outreach, excellence and being a voice for the betterment of women in leadership roles.
The winners across the seven categories were Ibtisam Mohammed, University of Bahrain (Academic Achievement for University Student Award); Prof Suzana Nunes, KAUST (Academic Achievement for University Professor/Researcher Award); Dr Salwa Sheikh, Johns Hopkins Aramco Healthcare (Woman of Achievement Award); Fatema Husain, Bapco (Rising Star Award); Elspeth Crawford, Aramco (Leading with Excellence Award); Laurent Tainturier, BASF (Corporate Champion - Male Champion- Award); and Johns Hopkins Aramco Healthcare for the Corporate Excellence Award.
The three-day virtual Lewas 2020 symposium, from October 27-29, brought together over 1,100 participants from 57 countries, from diverse industries including oil and gas, chemicals, academia, healthcare, utilities, construction and beyond.
Themed, 'Resilience Reimagined: Leading People Through Change', the symposium had business leaders move the needle on how some long-term projects had to take off with the pandemic developing overnight, shifting the pace, balance and urgency to act on all fronts.
The event addressed topics impacting the future of growth in the energy sector; from exploring what sets resilient organisations apart to how diversity drives innovation and growth during crises, preparing for the next market shocks and more.