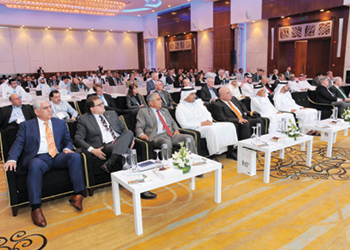 The audience at BBTC MENA's previous session
Organisers of this year's Bottom of the Barrel Technology Conference (BBTC Mena 2021) say there will be insightful presentations and thought-provoking panel discussions with major end-users and leading technology, catalyst and service providers.
Delegates attending will hear the latest updates on residue upgrading and catalyst technologies.
The event, organised by Euro Petroleum Consultants, will be held on December 14–15 in Bahrain under the Patronage of Shaikh Mohammed bin Khalifa Al Khalifa, Minister of Oil, Kingdom of Bahrain, with the support of the National Oil and Gas Authority (Noga) and Bapco as the Principal Sponsor.
Topics that will be discussed include heavy oils upgrading strategies, HS-FCC, ARDS catalyst system, spent residue upgrading catalysts and delayed coking.
The BBTC Mena 2021 offers the region's refiners a platform to network and share knowledge with downstream specialists.
Some of the major producers presenting at the conference include Bapco, ENI, Gazpromneft - Catalytic Systems, KIPIC, KNPC, Nayara Energy, Satorp and Aramco.
Meanwhile, key solution technologies will be presented by market leaders including ART Hydroprocessing, Axens, CLG, Honeywell UOP, Shell & AMG Recycling, Wood and many more.
For almost two decades, BBTC has been the only event focusing on technologies, catalysts, project trends and equipment innovations relating to residue upgrading in refineries.
Speakers and panelists at a previous session
This year's event comes at a time when the oil and gas industry was deeply impacted by the Covid-19 pandemic and a drop in oil prices, stirring discussions about the best adapted routes and solutions for the bottom of the barrel and upgrading residue.
The pandemic accelerated many aspects of the energy transition, presenting challenges and opportunities for the Middle East downstream sector.
Compared to other regions, such as Europe, which has seen an increase in plant closures, asset transformations and sales to third parties, the Middle East is in a prime position to diversify, embrace flexibility and meet market demands.
However, refiners have to adapt their operations to meet the current market demand as traditional refining is no longer seen entirely profitable. Integration and diversification are playing an increasingly important role in balancing the economy of the sector.
As region struggles with the flexibility of feeds and the ongoing challenging fuel oil market situation and changing specifications, refiners can look at the option of importing fuel oil as feed for crude oil distillations to meet changing demands as well as improve margins.
Residue upgrading has been, without doubt, central to achieving high levels of productivity and maintaining competitiveness.
Along with the process technologies, catalysts will continue to play a central role in reaching these objectives as well.
Catalytic processes are very much at the heart of refineries, and producers are looking to select the best-suited catalyst to increase profitability, maximise production, increase integration and develop new revenue streams.
Technology providers have an important role to play as well, and can give refiners the flexibility to change their route depending on their market position, develop new innovative operations to optimise assets and configuration adjustments to comply with new regulations, reduce the carbon footprint, and most importantly maximise margins.
There are new investments in bottom of the barrel processes, which will be discussed at the event, as well as revamps and operational improvements to existing units.
New projects are going ahead particularly in the Middle East and Russia with a lot of options available, including thermal, ebullated, fixed-bed and slurry hydrocracking technologies.