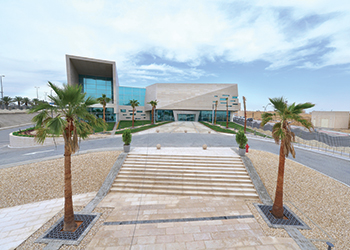 Sabic to help develop Oman's downstream industries
SabicC has signed a memorandum of understanding (MoU) with OQ, Oman's global integrated energy group, to support the study for developing a petrochemical project at the Special Economic Zone of Duqm (SEZAD) in Oman.
The non-binding MoU lays the preliminary and indicative terms for the potential study, and expresses the intentions of the two sides to discuss and assess the feasibility of the project.
The project involves a world-scale steam cracker unit (SCU) and derivatives units producing olefins derivatives (ethylene and propylene) which are expected to utilise the feedstock by-products from the SCU.
Abdulrahman Al Fageeh, Executive Vice-President, Petrochemicals, commented: "We are honoured to sign this MoU with OQ as our focus has always been on key collaborations and on building fruitful relationships for sustainable growth, regionally and globally.
"With our diverse global portfolio, along with our manufacturing competencies, we are confident of helping to drive the development of downstream industries in Oman, just as we are currently a key enabler in the achievement of Saudi Arabia's Vision 2030 objectives."